CPAP Equipment: CPAP Humidification: Cold Humidifiers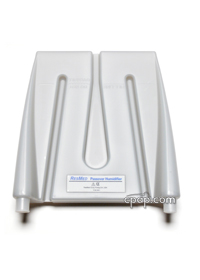 Cold Humidifier Overview
A cold humidifier is also known as a "passover" humidifier.

In this type of humidifier, there is no heating element to warm the water. The airflow from the CPAP machine "passes over" the water before continuing on through the main hose to your mask. As the air "passes over" the cold water, moisture is picked up by the air stream and is then carried along the hose to your mask and airway. This addition to your basic equipment will reduce irritation in your nasal passages.
Cold Humidifiers FAQs
A passover humidifier uses a chamber of room temperature water with the CPAP to add moisture to the airflow and reduce irritation to the nasal passages.

Air flows from the CPAP through a short hose to the humidifier chamber where the air "passes over" the water to pick up whatever moisture it can. The air then flows into the six foot hose to the mask.

Passover humidifiers may provide sufficient moisture with CPAPs set at lower-end pressures. However, if the moisture is not sufficient there is no way to increase the amount of moisture added. The water is room temperature. In cold climates, the water temperature will drop causing the CPAP air to become very cold, and causing the amount of moisture to be reduced.
Humidification adds moisture to the CPAP air, reducing irritation to the nasal passages caused by the increased airflow.

CPAP air is an irritant - to one degree or another - to everyone. In some cases the irritation dries out the nasal passages and may cause bleeding. It may also cause swelling, excess mucous, congestion or sneezing. The irritation may create a very fertile ground for infections to begin. The irritation may be cumulative, building up over time. The only way to reduce the irritation is to add moisture.

Humidification is therefore a critical part of CPAP Therapy.


There are two types of humidifiers:

Heated Humidifiers
Cold (Passover) Humidifiers
Many PAP users experience nasal congestion and dryness of the nose and throat during treatment. This can be especially problematic for new users who are adapting to treatment. Humidification adds moisture to the air helping to reduce the symptoms of dryness and congestion.

Nasal congestion also leads to mouth breathing, which perpetuates the problem of dryness. If this is an issue for you, try a heated humidifier.
An integrated humidifier is used with a specific CPAP and fits directly onto the machine. For most heated humidifiers, this design eliminates the need for a second hose as well as a second power cord.

An advantage of an integrated humidifier is that it works very closely with the CPAP machine to deliver humidification. Also, an integrated humidifier is a compact unit that uses fewer parts to provide moisture to the user.

A disadvantage of the integrated humidifier is the user will receive less moisture when it is used with a passover humidifier. The smaller surface area effects the amount of moisture produced. Also, a integrated humidifier will only function with the CPAP for which it was designed.

You can see if your machine has an integrated humidifier option by reviewing our Compare Charts.

An example of an integrated humidifier is the PR System One Heated Humidifier as seen below attached to a machine in the PR System One line.

Here are some of the integrated humidifiers we carry:

DreamStation Heated Humidifier
Transcend Heated Humidifier
IntelliPAP 2 Heated Humidifier with Pulse Dose Humidification
PR System One 60 Series Heated Tube Humidifier with Heated Tube
A "built in" humidifier is designed as a part of the CPAP machine and cannot be removed or separated from the CPAP machine. As with an integrated humidifier, the design eliminates the need for a second hose or power cord. The water chamber can be removed for cleaning or replacement purposes.

The advantage of a "built-in" humidifier is its compact shape, which operates on fewer parts. This integrated design helps to ensure optimum moisturized comfort and effectiveness when CPAP therapy and humidification are used together. Also, it allows an option for the humidification to be turned off while the CPAP is blowing.

A disadvantage is that a built in humidifier may produce less moisture if used as passover because the surface area is typically smaller. Also, since the humidifier is "built in" to the machine, detaching it is not an option. This can be an issue for frequent travelers. Lastly, if the machine or humidifier stops working, the entire unit must be sent in for repair or replacement, not just the component that failed.

An example of a machine with a built in humidifier is the ICON Auto CPAP Machine with Built In Heated Humidifier and SensAwake as seen below.
Here are some other machines we carry with built-in humidifiers:

AirSense™ 10 CPAP Machine with HumidAir™ Heated Humidifier
AirSense™ 10 AutoSet CPAP Machine with HumidAir™ Heated Humidifier
iCH Auto CPAP Machine with PVA and Built-In Heated Humidifier
+ See More

A stand alone humidifier is a component that will work with any CPAP and does not attach directly to the machine. It has its own power cord and a short hose to connect it to the CPAP. Generally it will sit next to the CPAP machine and is slightly larger than an integrated humidifier.

The advantage of a stand alone humidifier is the fact that it may be used with any CPAP machine.

The main disadvantages are that the size is often larger than either a "built in" or integrated humidifier and that a short hose is needed to connect it to the CPAP machine.

An example of a stand alone humidifier is the Fisher & Paykel HC150 Heated Humidifier as seen below.

A7034 is Nasal Mask
A7034 is Nasal Pillow Mask
A7030 is Full Face Mask
A7027 is Hybrid Mask
A7044 is Oral Interface Mask (Oracle)
A7035 is Headgear for Mask - Any Style
A7036 is Chinstrap - Any Style
A7032 is Replacement Nasal Mask Cushion
A7033 is Replacement Nasal pillows
A7031 is Replacement Full Face Mask Cushion
A7028 is Replacement Hybrid Mask Cushion
A7029 is Replacement Hybrid Mask Nasal Pillow
A7046 is Replacement Humidifier Chamber
A7037 is Tubing / Hose - Long & Short Tubes
A4604 is Heated Tubing
A7038 is Disposable Filter (White / Paper)
A7039 is Washable Filter (Gross Particle / Foam/ Black)
E0601 NU is CPAP Purchase
E0601 NU is APAP Purchase
E0470 NU is BiPAP Purchase
E0470 NU is BiPAP Auto Purchase
E0471 NU is BiPAP ST Purchase
E0471 NU is BiPAP Auto SV Purchase
E0562 NU is Heated CPAP Humidifier
E0561 NU is Passover or Cool CPAP Humidifier
E0601 RR is CPAP Rental
E0601 NU is APAP Rental
E0470 RR is BiPAP Rental
E0470 RR is BiPAP Auto Rental
E0471 RR is BiPAP ST Rental
E0471 RR is BiPAP Auto SV Rental


E1399 is Miscellaneous and is used for other CPAP items.
To care for your humidifier simply empty and clean the water tank each morning. Only distilled water should be used in the humidifier to avoid mineral deposit build up.
Here are some items that can help with caring for your humidifier:

Control III Disinfectant CPAP Cleaning Solution - 16 oz Concentrate
Control III Disinfectant CPAP Cleaning Solution - Home Care Kit
Hurricane CPAP Equipment Dryer
Use distilled water to help keep the humidifier chamber clean and mineral deposit free. Tap water should not be used as it will leave hard white mineral deposits in the chamber as the water evaporates, or it may lead to mold growth. Cases of lung disease have been connected to using contaminated well water in a CPAP humidifier.* Source

If distilled water is not available where you live, use bottled water. It will be important to clean the chamber each morning, do not leave standing water in the chamber between uses.
Rainout is the accumulation of water in a CPAP tube due to warm moist air cooling and condensing on its way from your CPAP machine to your CPAP mask.

The image below from Fisher & Paykel explains how rainout is formed. Warm, moist air leaves the heated humidifier and travels through the CPAP tube. As air flows through the tube, the temperature of the room causes the tube to cool. As the tube cools, the air inside releases its moisture, and creates condensation in the hose.

Solutions to rainout include:

Raise the temperature of your bedroom.
Keep your CPAP machine at the same level as your bed.
Insulate your tubing with a hose cover like Snugglehose.
Reduce the tempurature setting on your heated humidifier.
Purchase a CPAP machine with a rainout reduction comfort feature.
Some machine systems offer a compatible heated CPAP hose which maintains the temperature from the machine all the way to the mask, reducing the occurrence of rainout. The list of available heated hoses can be found here: Hoses With Heating Coils.
If your machines uses a standard hose, consider the ComfortLine Heated Tubing Kit.




A hose cover is placed over the hose in order to insulate the hose and to make the hose more comfortable. The simplest and most cost effective way to insulate a CPAP hose is to wrap it in an insulating fabric. This enables the hose to remain flexible and adds little weight.

Companies such as Snugglehose provide a cost effective tubing insulation available in several colors and styles. Not only will the covers reduce or eliminate rainout, they also provide a more personal and less institutionalized appearance. An example of a Snugglehose is shown below.



Here are some hose covers we carry:

Tubing Wrap for AirSense™ 10, AirCurve™ 10, and S9 Series SlimLine™ Tubing
Respironics Insulated Hose Cover
ResMed Zippered Tubing Wrap
+ See More
Yes. Federal law requires we have a valid prescription on file before we ship your mask, machine, humidifier, or Provent.

We provide many easy ways to get your prescription:

We can request your prescription for you! When you checkout, just let us know you would like us to request your prescription, or you can log into your account to have us request your prescription.
Fax your prescription to our toll free fax number: 866.353.2727, or our international fax number: 713.541.7370
Email your prescription to cpap@cpap.com
Upload your prescription in your account, under the Prescriptions Section
Ask your doctor to fill out our prescription form. We have both a standard prescription form and a Provent prescription form.

For more information on prescriptions, please see our Prescription Section of the Learning Center.
A humidifier prescription must contain all of the following information:


One of the following words or phrases: "CPAP Humidifier", "Humidifier", "HH", "CPAP Supplies", "CPAP Mask", "CPAP", "Continuous Positive Airway Pressure", "APAP", "AutoPAP", "AutoSet", "Auto CPAP", "Auto Adjusting CPAP", "Self Adjusting CPAP", "BiPAP", "BiLevel", "VPAP", "BiPAP Auto", "BiPAP ST", "Synchrony ST", "VPAP ST"
Your physician's contact information
Your physician's signature
The patient's full name


Here are some of our top selling humidifiers:

PR System One 60 Series Heated Tube Humidifier with Heated Tube
Transcend Heated Humidifier
XT Heated Humidifier
+ See More
Yes, all CPAP masks and CPAP humidifier chambers either contain BPA or their manufacturer has not released a statement calling their products BPA free. Here is a statement released by Respironics:

Government of Canada Takes Action on Another Chemical of Concern: Bisphenol A

April 25th 2008

To Whom It May Concern

This document represents Respironics' position regarding the use of Bisphenol A in Respironics Sleep and Home Respiratory Devices. On April 18, 2008, the Government of Canada, banned the use of Bisphenol A (BPA) in polycarbonate baby bottles, claiming that the exposure to BPA on newborns and infants up to 18 months of age, could potentially present a health risk to this patient group when the polycarbonate baby bottles are exposed to high temperatures.

At this time, we are able to provide the following information to our customer: NONE of our Sleep and Home Respiratory products which are either breathable or skin contacting are intended for use with newborns or infants under 18 months of age. Therefore, Respironics is in compliance with Health Canada's position for exposure for the identified at risk patient population.

Although Health Canada's restriction for BPA does not include products used for ages above 18 months at this time, Respironics is evaluating its product portfolio and will take the appropriate actions to determine and mitigate any potential risk from use of its products or potential exposure to BPA. It should be noted that NOT all polycarbonate resins contain BPA. In response to the direction provided by Health Canada's device licensing division, Respironics will be evaluating all of our Class II and III medical devices to determine if the resins used in the manufacturer of its products contain BPA.

Further, none of our products or accessories using polycarbonate are labeled for exposure.

In closing, it is Respironics position that our products do not pose any increased risk of exposure to BPA for our users and thus our products remain safe for use.

If you have any further question regarding this topic, please feel free to contact me at zita.yurko@respironics.com or at 724-387-4120.

Regards,

Zita Yurko Director, Regulatory Affairs Sleep and Home Respiratory Division Respironics, Inc.
Cold Humidifiers Video
More Videos
CPAP Users Say
CPAPtalk.com CPAP User Discussions
Did You Know, Cold Humidifiers
Passover humidifiers do not heat the water. The air will blow over the room temperature water to provide the moisture to the CPAP air.
Heated humidifiers are recommended because heat carries more moisture than cold.
Distilled water is recommended for use in your humidifier as it has less minerals and may be more sanitary.
CPAP users who use humidification are more likely to stick with their therapy.
Cold Humidifiers Articles
CPAPtalk.com Wiki Articles
Research Articles
CPAP.com Newsletters
Top Cold Humidifiers
Top Cold Humidifiers by User Review
Top Cold Humidifiers by Sales
Top Cold Humidifiers by User Review
Top Cold Humidifiers by Sales