Sign-up for our weekly newsletters for CPAP articles, tips and special offers!
Submitting...
CPAP Newsletter: 5 Common CPAP Pitfalls To Avoid
To view this newsletter as a web page please click here .
Please add cpap@cpap.com to your address book to guarantee delivery of CPAP.com Newsletters


5 Common CPAP Pitfalls To Avoid
1. Not Changing Your Machine Filters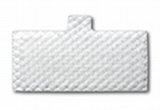 By cleaning or replacing your filters when necessary you ensure that the air you breathe is clean and help promote the longevity of your CPAP machine.
Most CPAP machines are designed to utilize both a reusable and disposable filter. Reusable foam filters are usually black or gray and feel like a sponge. These filters capture large particles and let smaller ones pass through. They come in packs of two and should be cleaned weekly or when they appear dirty. You can clean reusable filters in warm, soapy water and should replace them every three to six months.
Disposable filters are white and feel like cotton or felt. These filters catch small particles such as pollen and help filter out scents and odors. They come in a pack of six and should be thrown away when they start to show a light gray color or a visible accumulation of dust. Disposable filters cannot be cleaned and should be replaced monthly to assure your CPAP therapy is effective. If your machine has both foam and disposable filters the foam one should cover up the disposable filter, not the other way around.
Keep the Air Your Breathe Clean and Healthy - Change Your Filters
2. Drying Out Your Upper Airway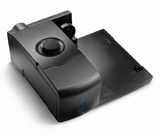 CPAP therapy without a heated humidifier produces cold dry air which can cause inflamed sinuses, a swollen throat and complete frustration. This problem is most severe when your household air conditioning or heater is on as they remove humidity from the air. Not only is this uncomfortable but a swollen throat can increase the number of apneas you experience during sleep. The solution is a heated humidifier. Heated humidifiers produce warm, moist air which is easier to breathe and gentler on your airway. This addition to your therapy will assure a more comfortable night's sleep.
Be Kinder To Your Sinuses and Throat - Get a Heated Humidifier
3. Consuming Alcohol Before Bed
CPAP therapy works by giving you enough pressure to hold your airway open during normal sleeping conditions. However, this pressure may not be enough if you have consumed alcohol even 6 hours before bed . Alcohol increases the severity of sleep apnea by causing increased muscle relaxation. The resulting blockage of your airway may not be overcome by a regular CPAP machine which only provides one constant set pressure. An APAP machine, also called an Auto Adjusting CPAP, will combat this by detecting and providing your ideal pressure on a breath by breath basis.
Don't Miss a Single Breath - Experience an APAP
4. Sleeping On Your Back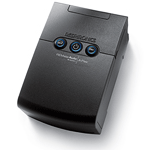 Each body position calls for a different amount of pressure required to keep an airway open during sleep. Sleep diagnostic facilities typically suggest that a higher pressure is needed in this supine position. Individuals who sleep primarily on their back suffer twice as many apneas due to the effects of gravity. Back sleepers can find relief and a much lower pressure in APAPs which adjust the pressure delivered to your individual, immediate requirements. For the health of you and your therapy consider upgrading to an APAP.
View CPAP.com's Top Selling APAPs
5. Mask Leaks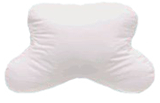 Changing positions frequently during sleep is normal. Unfortunately, different body positions may cause mask leaks and pain from mask straps due to mask shift. "Active sleepers" can find comfort in a PAPillow. The PAPillow is specifically designed to prevent mask leaks and strap pain that users experience with a traditional pillow. It allows your mask to hang freely off the side of the pillow while fully supporting your head. This ensures that your mask will be properly positioned and that you will be comfortable as you sleep.
Don't Get Your Mask In a Twist - Unwind With a PAPillow



We maintain a strictly opt-in newsletter. You are free to unsubscribe at anytime.
© US Expediters Inc (CPAP.com), 4023 Greenbriar Drive Missouri City,TX 77459