Sign-up for our weekly newsletters for CPAP articles, tips and special offers!
Submitting...
CPAP Newsletter: An Easy Way To Reduce Mask Leaks
To view this newsletter as a web page please click here .
Please add cpap@cpap.com to your address book to guarantee delivery of CPAP.com Newsletters


An Easy Way To Reduce Mask Leaks
Are mask leaks and pain preventing you from finding a comfortable night's sleep? Have you tried every mask available and still experience leaks? It could be your pillow creating the problem and not your mask. If you are using a traditional pillow it is likely that your mask is not being positioned properly as you sleep. Many custom pillows have been developed to help solve this problem. If you or a loved one can't find comfort with a traditional pillow you should consider one of these three alternatives.
The PAPillow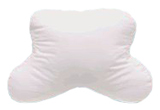 The PAPillow is our sturdy and firm premium pillow. Rather than allowing your mask to press into your pillow and create an uncomfortable and ineffective mask position the PAPillow eases mask shift and sore spots through its design. The quilted side panels of the PAPillow prevent edge collapse and assist in keeping your head elevated in a proper position. This creates optimal comfort and mask clearance while providing a contour for your shoulder to rest in. The PAPillow has extra pillowcases available, is machine washable and has a hypoallergenic fill.
Buy a PAPillow For a Premium Rest
SleePAP Pillow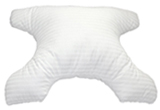 Our new moderately priced pillow, the SleePAP, is also our medium softness pillow. This pillow is softer than the PAPillow but not as soft as the new CPAP Multi-Mask. Unlike the PAPillow the SleePAP does not have quilted, reinforced side panels and its fill is not as thick, allowing for a less stiff elevation. This design is perfect for individuals who find optimum comfort with a slightly softer pillow. The SleePAP Pillow's contours are designed to fit the curvature of your shoulder and its edges are specifically shaped to keep your mask extended over its side. This design prevents the mashing and shift of your mask that takes place with a traditional pillow.
The CPAP Multi-Mask Pillow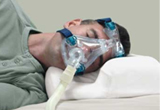 The attractively priced CPAP Multi-Mask Pillow is one of the newest products on CPAP.com. The Multi Mask Pillow is constructed from a soft, traditional-foam and offers 6 different comfort zones for your body and mask. These zones allow for the natural "nesting" of your shoulders, neck and head while creating a contact-free mask zone. This design allows for freedom of movement during sleep while preventing mask shift and leaks. Those of you who enjoy thin and soft pillows will enjoy the Multi-Mask Pillow.
Experience the Multi-Mask Pillow Now
Do You Have More Questions About Pillows? Don't Hesitate to Call Us at 1-800-356-5221 or Email Us .

We maintain a strictly opt-in newsletter. You are free to unsubscribe at anytime.
© US Expediters Inc (CPAP.com), 4023 Greenbriar Drive Missouri City,TX 77459