Sign-up for our weekly newsletters for CPAP articles, tips and special offers!
Submitting...
CPAP Newsletter: What's New In Machines Series: Shopping For Size
To view this newsletter as a web page please click here.
Please add cpap@cpap.com to your address book to guarantee delivery of CPAP.com Newsletters

If you are shopping for a CPAP machine it is wise to match the size of your machine to your lifestyle. There are compact, lightweight and robust machines, which are ideal for the frequent traveler and for everyday use, as well as larger machines ideally suited for home use and light or infrequent travel. It is also important to consider the total size of your CPAP gear, including comfort and functionality upgrades. This guide will point out some of the obvious and not so obvious factors that impact machine size.
General Machine Size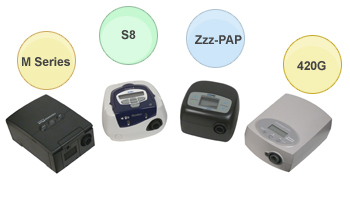 The size of the machine alone is the factor most who shop on size tend to use. Manufacturers have responded to this way of thinking by producing a range of quality machines with very small profiles. Travel machines are relatively compact, ranging between 4.5 by 4 inches and 6.5 by 7 inches and weighing between 1.7 and 2.2 lbs. Their compact dimensions make these machines easy to fit inside of your luggage or as part of your carry-on. Many new travel machines have all of the features of their larger counterparts. For this reason, even those who do not travel are choosing to upgrade to a travel friendly version of their old favorite.
Humidifier Size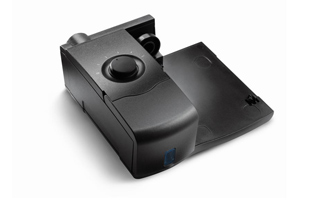 Heated humidifiers produce warm, moist air which is easier to breathe and gentler on your airway but, they also add to the weight and size of machines. Some humidifiers are better integrated than others. Travel-friendly machines with a heated humidifier usually weigh between 3.8 and 5.5 lbs, while ones that are not ideal for traveling can weigh up to 6.65 lbs.
Integrated heated humidifiers are the most popular type of humidifier available. Each integrated humidifier attaches to its matching CPAP machine in a different way. There is no standard humidifier chamber size or standard way to attach a humidifier to a machine. Heated humidifier chamber sizes can range anywhere from 240 ml to 450 ml.
Sometimes, in an effort to create a more size efficient machine, manufacturers will shrink the size of the humidifier chamber. This helps to create a machine that is more travel friendly in size and weight. However, this shrinking of the humidifier chamber can sometimes cause individuals who use high levels of humidity, or who sleep longer than 8 hours, to run out of water during their treatment. When shopping for a machine with integrated humidification be sure to research the volume of the humidifier chamber as well as the size and weight of the entire setup. If you have any questions, our representatives are here to help. Please give them a call at (800) 356-5221.
Power Source Size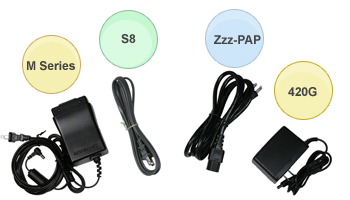 Humidifiers aren't the only thing that can significantly affect the size and weight of your CPAP machine. Power supplies can also play a large part. Some machines house their power supply within the unit, requiring you only to plug into a wall socket. Other machines include an external power supply which you must plug into your CPAP machine and then into the wall.
Just because a machine is small in physical dimensions does not mean it is ideal for travel. Sometimes weight can be increased through the integration of the power supply or "brick". Other times a machine itself may be very lightweight but require the use of a very large brick, which makes machines with such a design less travel friendly than they first appear.
The CPAP.com "CPAP Machine Feature Compare Chart" is a fast and easy way to determine the true weight of any CPAP you have your eye on. While it lists "weight", which is the manufacturer published weight of the machine alone, it also lists "Entire Weight", which is the combined weight of the machine, heated humidifier, power cables, bag and hose. Please do keep in mind the entire weight doesn't include any battery accessories you add.
View the CPAP Machine Feature Compare Chart
Level Of Integration Offered By A Machine
Integrated machine components, such as heated humidifiers and battery packs, are upgrades specifically designed to "snap into" a certain type of machine. Integration ensures that all components will function properly together and tends to make the overall size of more advanced machine setups smaller.
While nearly all manufacturers now offer integrated heated humidification, only one machine combines this with an integrated battery pack, as well. The AEIOmed Everest 2 combines a travel friendly machine, heated humidifier and battery pack into one compact unit. In addition to being well rated and reviewed on CPAP.com, AEIOmed is currently offering free returns within 15 days of purchase.
Battery Pack Size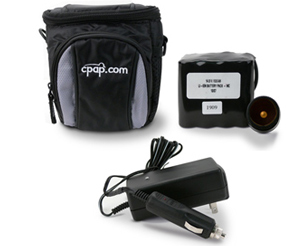 Battery packs can preserve your sleep therapy during a power outage, while you're camping or during a natural disaster. While adding size and weight to your CPAP machine, the trade off of having the peace of mind of a functional machine no matter the circumstance may be well worth the investment. A battery pack can provide you with a good night's rest in almost any power condition.
For our most travel friendly battery take a look at the CPAP.com Battery Pack. Small enough to fit in your hand and robust enough for a full night's sleep. The CPAP.com Battery Pack is 2.5 lbs of extra security and works with all popular machines. Look for our exclusive battery pack newsletter coming up in the near future.
View the CPAP.com Battery Packs
Conclusion
There is more to machine size than there appears at first glance. Your machine is a nightly medical necessity, but it should also be comfortable and match your lifestyle. When shopping for your next machine, keep in mind that your power and humidification needs can be met in efficient and travel friendly ways.

We maintain a strictly opt-in newsletter. You are free to unsubscribe at anytime.
© US Expediters Inc (CPAP.com), 4023 Greenbriar Drive Missouri City, TX 77459