Sign-up for our weekly newsletters for CPAP articles, tips and special offers!
Submitting...
CPAP Newsletter: CPAPtalk Product Challenge - And The Winner Is...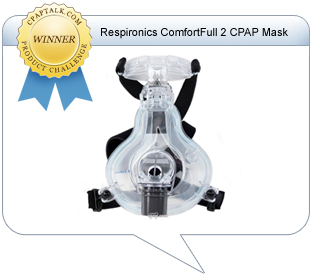 This second Product Challenge was a very close and interesting match. Once again the CPAPTalk.com CPAP users did a marvelous job. The 50 participants' detailed responses were excellent and we strongly encourage you to read them all. They are essential reading for all whose job it is to develop improved CPAP interface products. Please note that while the ComfortFull 2 won in overall votes, the Zzz-Mask won in three categories. We have summarized at the bottom of the results page some of our own observations.
We would sincerely like to thank everyone who registered and those of you selected to participate in this second CPAPtalk Product Challenge. This new, exciting and educational public customer satisfaction trial gave us insightful feedback on the Zzz-Mask full face mask, ComfortFull 2 full face mask and on the Product Challenge process itself. Thank you CPAPers. We couldn't have done it without you!
50 current users of the ComfortFull 2 were selected from nearly 400 enrollees to receive a complimentary Zzz-Mask Full Face CPAP mask. After a two week trial period participants were asked to fill out a detailed survey. The Challenge was administered in a professional and impartial manner with rules against manufacturer contact and discussions or disclosures presented on CPAPtalk.com during the trial period. The software powering each Product Challenge is designed to collect and compile results in an automated fashion to ensure they are not tampered with and are free of result compilation errors.
We believe that the Product Challenge is an industry changing event. It allows CPAP users to make their voices heard. It provides the CPAP industry with a standardized measure of patient product satisfaction. We envision a future where we have conducted Product Challenges on many CPAP products. Results from these trials will give CPAP users better information on product quality and comfort levels and hopefully give manufacturers valuable feedback about their products and ways to improve them.
Challenger slots for early 2008 are full and slots for the rest of the year are filling up quickly. CPAP manufactures interested in scheduling a challenge are asked to contact us promptly. We will announce future results through this CPAP newsletter and on the Product Challenge section of CPAPtalk.com. Please check back often to enroll and receive free CPAP gear in exchange for your feedback.


We maintain a strictly opt-in newsletter. You are free to unsubscribe at anytime.
© US Expediters Inc (CPAP.com), 9100 Southwest Freeway Suite 135 Houston, TX 77459