Sign-up for our weekly newsletters for CPAP articles, tips and special offers!
Submitting...
CPAP Newsletter: The HoseBuddy and Inside CPAP.com Shipping
To view this newsletter as a web page please click here.
Please add cpap@cpap.com to your address book to guarantee delivery of CPAP.com Newsletters


HoseBuddy Tangle Free CPAP Hose Suspension System





4.9 out of 5 stars by 42 CPAP Customers
CPAPAuction.com Update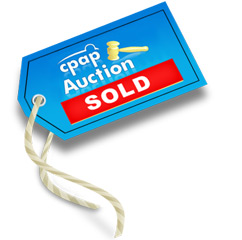 CPAPAuction.com recently celebrated 6 months since it was launched and your response has been tremendous. Since the last time we reported, about 2 months ago, membership has gone from 3,500 up to 5,600 members. Since CPAPAuction's inception over $270,000 worth of auctions have closed with a winning bidder. Typically there are about 300-400 items for auction at any given time and some amazing deals can be found on CPAPAuction. Also, CPAPAuction is a great place to sell your lightly used CPAP items. Signing up is free and easy. Get started today.
Inside CPAP.com: Shipping Department

Customers tell us every day how much they appreciate the speed with which CPAP.com delivers orders. We take a lot of pride in our Shipping Department. We work hard to ensure your orders are properly picked, packed, shipped, delivered, and in your hands quickly and accurately. We are constantly making improvements to our systems and processes in order to serve you better. Our Shipping Department is one of the many elements that make up the CPAP.com difference.
In this issue of our newsletter, we take a deeper look inside of the CPAP.com Shipping Department.
We asked our Shipping Manager, Brian Evans, a series of questions and here are his answers:
How do you ensure that CPAP.com's customers get their orders in a timely manner? We work very fluidly as a team. Everyone is cross trained so they can help out in different areas as needed. Our stock levels are high and we put the number we have in stock of most items right on our product pages.
How do you make certain the contents of the order are correct? Each order is pulled and checked by the order puller and then double checked by the order packer. If errors are found they are quickly corrected.
What's the greatest number of orders the Shipping Department has sent out in one day? Over 900 packages. Hopefully we can break that record soon with the help of our customers.
What makes the CPAP.com Shipping Department unique? The warehouse is located on-site with our main headquarters which gives our buyers and Customer Service Reps access to the products as needed to assist our customers with questions or to manage inventory levels. The employees are cross-trained and help each other out. There is a wealth of knowledge within the department. In fact all of the Customer Service Representatives begin their work experience in the warehouse to help familiarize them with the products and our processes.
Once an order is placed, how long before its actually packed and shipped? This is dependent on the size of the order and what time of day it is placed. Larger orders take more time. On average, from printing to shipping, it takes only a few minutes.
What happens when we run out of a product? How are backorders handled? Inventory levels are adjusted if needed. Next, our Customer Service Department is then notified to follow up with the customer to determine the best course of action in each situation.
What about the machines? Who sets them? Are they tested before shipped? Although most employees have training with machines, there is a set group of people responsible for setting the machines. Each machine is set according to the prescribed pressure. CPAP.com uses water column manometers to fine tune the pressure of the machines and also to check the CPAP for accuracy. Each machine is also briefly tested to make sure it functions properly before it is shipped out.
Does CPAP.com have an Emergency Readiness Plan in place? A couple of years ago, after Hurricanes Katrina and Rita, we put into place a Hurricane Emergency Plan to make sure that we can ship orders out, even if that means we haul the packages ourselves to another UPS/USPS station 50 or 100 miles outside of our immediate area, if that is an option. We also have two distinctly different Internet pipes, use VoIP phones and a back up power generator. It is all hardwired in and is used in the event that we lose power.
What are some of the recent improvements made to the Shipping Department? The most recent improvements to the warehouse have been the addition of more space and a loading dock. With the increased demand for equipment comes the need to be able to store more products so that we may have enough on hand to meet the customer's needs. We also recently upgraded our own internal software to integrate more closely with the different carrier's software systems, creating more efficiency. Lastly, recent improvements to our Inventory Management System and our Canada shipping should make for more accurate inventory levels and help our Canadian customers get their orders faster.
Is there anything you would like us to know about your team? They are by far the most dedicated and hard working group of people I have had the pleasure of working with.

We maintain a strictly opt-in newsletter. You are free to unsubscribe at anytime.
© US Expediters Inc (CPAP.com), 9100 Southwest Freeway Suite 135 Houston, TX 77074