Sign-up for our weekly newsletters for CPAP articles, tips and special offers!
Submitting...
CPAP Newsletter: CPAP.com My Account Launch and Fox26 TV News Story
To view this newsletter as a web page please click here.
Please add cpap@cpap.com to your address book to guarantee delivery of CPAP.com Newsletters

We recently conducted a survey that asked CPAP.com customers if they wanted the ability to login and access their account information. Nearly 75% of those surveyed said that this was something they wanted out of their experience with CPAP.com. Well, you asked for it and now you've got it. We now present to you the CPAP.com My Account system. Here are some benefits to creating an account.
Track Your Orders
View Your Order History
Easy Re-Order System
Faster Check-Out When Logged In
Access Your Prescriptions

Set Up Reminders
Update Your Personal Information
Access To Your Info 24/7
Print or View Invoices
And More...
You may create an account when you place your next order

-OR-

You may get started now if you'd like.
CPAP.com Featured On Houston's Fox26 News Television Broadcast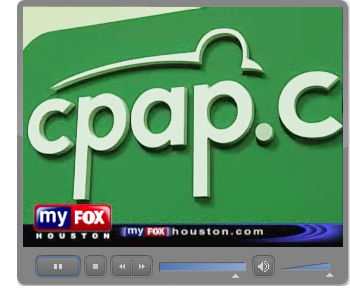 Recently, Houston's own Fox26 News interviewed our General Manager, Johnny Goodman. We think they did a wonderful job with their story on Sleep Apnea and CPAP.com, and we are delighted with the results. We hope this story will spread the word about the benefits of online CPAP suppliers.

Please take a couple of minutes to watch this television news piece. We also ask that you please forward this newsletter to any friends who may be affected by Sleep Apnea. Click the picture or click here to watch the video.
Note: Viewing this video requires Adobe Flash Player. Most people already have this software installed on their computers. If for some reason you cannot view the video, please install the latest version of Adobe Flash Player.

We maintain a strictly opt-in newsletter. You are free to unsubscribe at anytime.
© US Expediters Inc (CPAP.com), 9100 Southwest Freeway Suite 135 Houston, TX 77074