Sign-up for our weekly newsletters for CPAP articles, tips and special offers!
Submitting...
CPAP Newsletter: Introducing The Newly Redesigned CPAPtalk.com
To view this newsletter as a web page please click here.
Please add cpap@cpap.com to your address book to guarantee delivery of CPAP.com Newsletters

Introducing The Newly Redesigned CPAPtalk.com
We are very pleased to announce the launch of the newly redesigned CPAPtalk.com website. Many of you are CPAPtalk members already, or may be familiar with the CPAPtalk Product Challenge. We encourage everyone to go and take a peek at the new look and feel of our online CPAP and Sleep Apnea community, and we certainly hope that these changes make for a better user experience. We welcome your feedback.

What's New?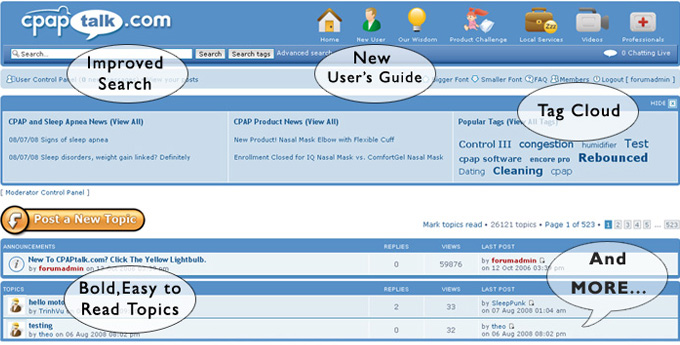 There are several features which have been added or updated. Here is a list of major features CPAPtalk.com offers its members:
Member Forum - Our forum works the same way, but now features like large bold title, main page avatars, guest spam prevention, and easy to find reply and quote buttons make it much easier to use.

Improved Search - This has been improved for ease of use and to provide better results.

New User's Section - This area gives a quick tour to people who are new to CPAPtalk.com and shows them many of the features available for their use.

Member Chatroom - In addition to the message board, members may also chat in real-time.

Tagging Ability and Tag Cloud - Members now have the ability to tag topics in the forum with relevant key words. There is also a Tag Cloud which shows popular tags and the ability to search tags. Learn more about Tag Clouds here.

Sleep Services Locator – This section allows members to search for sleep labs, doctors, DME providers, online retailers, and sleep support groups, in their local area. It was built with a Google Maps API for easy lookup of locations and driving directions. Providers of these services may submit or edit their information free of charge.

Product News Feed - Shows newly listed products from CPAP.com so that CPAPtalk.com members will be alerted when new products become available on the market. Also included are Product Challenge announcements and new Product Interviews.

Sleep Apnea News Feed - Gathers news related to Sleep Apnea and CPAP use from various sources on the web and lists them in an index for our members to read.

Video Section - This area contains CPAP and Sleep Apnea related videos in embedded YouTube format. Free video downloads to your PC are also still available.

Healthcare Professionals Section - This section is for medical and healthcare professionals, such as doctors, respiratory therapists, sleep labs, and DMEs. It gives them a quick tour and allows them the opportunity to request free brochures to give their patients or to order a free DVD called "Introduction to the Sleep Lab", which their patients can watch. We encourage you to spread the word and share this with the medical professionals who assist you with your sleep therapy.

CPAPtalk Product Challenge - Launched in 2007, the landing page has been modified for better navigation. The CPAPtalk Product Challenge is a product trial system that pits one CPAP product against a similar product allowing 50 pre-screened participants the opportunity to trial the product, free of charge, in exchange for their unedited feedback and product ratings.
Thank You
We have seen first-hand that CPAPtalk members really do help each other out tremendously, and while they take their condition seriously, they have a wonderful sense of humor about their CPAP therapy. We appreciate their dedication to each other, the newbies, and the community as a whole. If it wasn't for the people who use CPAPtalk, our website would not exist. As it stands today, it is a rich and deep resource of help from some real experts out there: the people who actually use a CPAP every night. We are happy to finally give you a shiny new CPAPtalk.com and we hope you enjoy it. It is our way of saying 'thank you'.
We believe that it is invaluable to have support and information from experienced CPAP users, available 24/7, at the click of a button. Combined with advice from medical professionals, the things people can learn on CPAPtalk can lead to increased therapy effectiveness and that really is the ultimate goal here for everyone.
CPAPtalk.com was originally launched in 2004. Now, with over 270,000 posts to the message board and more than 31,000 registered members, CPAPtalk.com is a thriving community of CPAP users helping each other through shared knowledge, support, and experience. Registration and use of the site are free of charge. CPAPtalk.com is run using a light moderation, high community involvement philosophy. It is always recommended that a patient consult with their doctor before making any changes to their therapy or medical treatment.
Stayed tuned. More to come.

We maintain a strictly opt-in newsletter. You are free to unsubscribe at anytime.
© US Expediters Inc (CPAP.com), 9100 Southwest Freeway Suite 135 Houston, TX 77074