Sign-up for our weekly newsletters for CPAP articles, tips and special offers!
Submitting...
CPAP Newsletter: What's New In CPAP Machines? E-Z Breathing Technology
To view this newsletter as a web page please click here.
Please add cpap@cpap.com to your address book to guarantee delivery of CPAP.com Newsletters

Have you ever had trouble breathing out against your prescribed pressure setting? Do you find yourself hitting the ramp button to decrease the pressure for a few more minutes? Do you have a high pressure setting? Would you just like to feel more comfortable with your sleep therapy? Well, luckily for you there is relief obtainable, namely something called pressure relief. These pressure relief technologies are available on certain CPAP, APAP, and BiLevel machines and can greatly enhance your comfort level by slightly decreasing the pressure as you exhale, making for a more natural feeling while breathing during your sleep therapy. Many CPAP users have found that pressure relief upon exhalation can make a big difference in their comfort level, their therapy effectiveness, and in some cases it may help with issues like aerophagia, or the swallowing of air. We will cover the various options available to you.
Respironics Technologies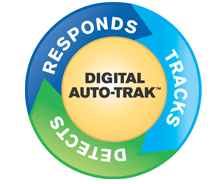 Respironics was the first to come up with some kind of pressure relief technology and they have continued to innovate in this area. The brains of the Flex family is based on their Digital Auto-Trak System, which is a highly sensitive algorithm that detects inhalation and exhalation. This allows the technology to respond to each person on a breath by breath basis and deliver the pressure relief at the correct moment in the breath cycle.
Each of the Respironics pressure relief options allows three user selected settings. The amount of pressure relief you receive depends on your prescribed pressure and which setting you have chosen. The pressure relief option may be turned off completely, if desired. Let's go over each of the Flex family technologies.
Bi-Flex
First introduced in 2001 on one of their REMstar BiPAP models, Bi-Flex works at 3 stages. Bi-Flex gives pressure relief upon the transition from inhalation to exhalation, and vice-versa. Bi-Flex also provides pressure relief upon exhalation. All of this adds up to create a more natural feel to your breathing. Bi-Flex is found on some Respironics BiPAP machines.
C-Flex
Respironics built on the Bi-Flex concept with the release of C-Flex in 2002. C-Flex reduces the pressure at the start of exhalation and returns to your prescribed pressure right before inhalation. This creates a more natural breathing feel and can add comfort to your therapy. There are several machines on the market with C-Flex available.
A-Flex
With the great success of C-Flex over several years, in 2007 Respironics created another pressure relief technology for their M Series Auto-Adjusting CPAP machine, or APAP machine, and named it A-Flex. A-Flex is engineered to increase comfort by matching the pressure delivery to the CPAP user's entire breathing sequence. Like C-Flex, A-Flex gives pressure relief at the beginning of exhalation and like Bi-Flex, A-Flex softens the transition in pressure from inspiration to expiration to deliver additional comfort when using Auto CPAP mode. A-Flex works in conjunction with the Respironics Auto Algorithm to deliver a seamless performance.
Read General Information About The Flex Family
Read More About Efficacy And Clinical Studies
ResMed Technologies
ResMed first introduced their Expiratory Pressure Relief (EPR) in late 2005 on select models of their S8 line of machines. In 2008 ResMed delivered the S8 II line of machines which include their new and improved EPR with Easy-Breathe Technology.
EPR
Found on the original S8 Elite and S8 AutoSet Vantage machines, EPR is a pressure relief option that has three user controlled settings that will drop the pressure 1, 2, or 3 centimeters of water pressure from the prescribed pressure setting. This can provide added comfort to the CPAP user and make breathing feel more natural. EPR does not work in Auto mode on the original S8 AutoSet Vantage, only in CPAP mode. EPR detects sleep disordered breathing events, and stops delivering pressure relief until the event has concluded and the CPAP user returns to normal breathing. EPR can be limited to work only during ramp mode. It can also be turned off completely, if desired.
EPR with Easy-Breathe Technology
The new S8 II line of machines have the new and improved EPR with Easy-Breathe Technology. EPR has all the features mentioned above, but will now work in Auto mode on the new S8 AutoSet II APAP machine. The new EPR also includes the Easy-Breathe smooth pressure waveform, which is based on a sophisticated algorithm that detects and recreates the CPAP user's breathing pattern, providing even more comfort than before. The Easy-Breathe machines include new motors that are extremely quiet and measure less than 25dB in standardized tests.
Learn More About EPR With Easy-Breathe Technology
Read A Clinical Study On EPR With Easy-Breathe Technology
Finding A Machine With Pressure Relief Options
There are many machines we carry that have the aforementioned technologies. Please see our compare charts and look for the rows that say "Pressure Relief on Exhale" or "Bi-Flex" to determine which machines have one of the above pressure relief comfort options. As always, please call us at 1-800-356-5221 or contact us if you need assistance with any questions regarding your sleep therapy.
View CPAP Machine Compare Chart
View APAP Machine Compare Chart

We maintain a strictly opt-in newsletter. You are free to unsubscribe at anytime.
© US Expediters Inc (CPAP.com), 9100 Southwest Freeway Suite 135 Houston, TX 77074