Sign-up for our weekly newsletters for CPAP articles, tips and special offers!
Submitting...
CPAP Newsletter: Five Ways to Fight the Flu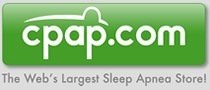 Sanitize with this disinfectant to
kill the virus that causes the flu.





Hang this in the shower to
clean and dry your CPAP tube.


Keep your
equipment clean.
Get a full face mask like the
Mirage Quattro.





Or, try FlexiFit HC431 Full Face
for all the same reasons.


Stuffy nose?
Breathe through your mouth.
Find your machine's heated
humidifier using our part finder.





Replace a standard hose with a
heated hose for added comfort.


Reduce
congestion with humidity.
Let eucalyptus and lavender
scents reduce sinus congestion.





Calm irritated nasal passages by
keeping them lubricated.


Keep your
sinuses clear.
Soothe chafed nostrils without
damaging your mask's cushion.





Elevate your head with a
CPAP mask-friendly pillow.


Stay
comfortable.
---
Don't Forget, FREE Ground Shipping on all U.S. orders over $99