CPAP.com's Andrew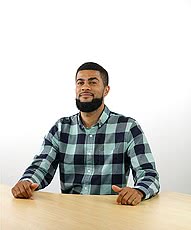 Name: Andrew
Bio:
Search Engine Marketing Analyst
That's a fancy way of saying I look at data. That is a bit simplistic but I probably
explore and investigate analytics more than Darryl Morey.
I'm a big sports guy (not physically) and would love to debate
whether the Golden State Warriors could have beat the 90's Bulls.
I like to think I'm a big foodie guy, right up until the time I have to order,
then I find myself going for the same ol' Cajun Pasta.
When I'm not pouring over stats you can find me either travelling with
friends and family in some backwoods,
off the grid camping trip or watching some of my favorite movies and analyzing their merits.
Advice to the would-be camper, always zip lock your extra pairs of socks. You can thank me later.
Words of advice from Jurassic Park, "Life, finds a way." - Dr. Ian Malcolm
Words of advice to a friend, "Miami is 10x more pricey and only 1.5x more fun than Cancun, scientific fact" - Anonymous Friend