CPAP.com's Ashley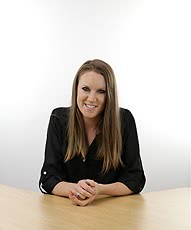 Name: Ashley
Bio:
Ashley paved the road to CPAP.com at the University of Texas at Austin where she earned a Bachelor's of Science and Master's of Arts in Advertising with a focus in Creative Advertising. During undergrad, Ashley walked on to the Women's Track and Field team, where she ran beside many top athletes, several whom later went on to win Olympic medals. While earning her graduate degree, Ashley pursued two internships at different advertising agencies, both of which taught her a lot about design, entrepreneurship and small business practices.
Shortly after graduation in 2009, Ashley was hired on by CPAP.com. At the time, the company had 35 employees and occupied part of an old office building with quite a few stray cats. Since then, CPAP.com has grown tremendously! And Ashley has helped CPAP.com moved twice now to larger, nicer office buildings - complete with neon green walls. No cats at the new locations, but she now has one of her own.
Ashley is currently the Marketing Director of CPAP.com and oversees all of the company's promotional efforts. Her goal is to help give many more individuals a better (read: easier, more affordable, more innovative) way to treat Sleep Apnea.
When she isn't working, Ashley enjoys spending time with her family and friends, traveling, attending concerts, reading, writing and putting her photoshop skills to use with a good prank.