CPAP.com's Johnny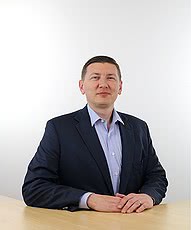 Name: Johnny
Bio:
Co-Founder and CEO
I've worked for CPAP.com since I was a junior in high school. A lot has changed since then! I am married to Carolyn Goodman and she works here too!
I'm an Aggie, class of '04 with a major in Philosophy. Was that a good idea? Here's a good essay by Paul Graham on the subject.
In addition to CPAP.com, our team also keeps CPAPtalk.com running.
You can find me posting on CPAPtalk under the handles forumadmin or johnnygoodman.
What do I believe? I think you are not the words you say as much as the things you build. CPAP.com is the change I want to see in the world. I'm proud of what it does, how it does it, the culture that governs it and the people I share this grand adventure with.
In my free time, I like to read books, code in ruby, play basketball, work in the garden or throw around with new business ideas.
When I'm not in the office, I'm usually visiting my grandparents in the beautiful rolling hills of La Crosse Wisconsin or going on vacation with Carolyn, preferably somewhere with a Hobie Cat and a cove with a nice wind.
Here are a few websites I read and enjoy:


Here's me in the angel community:




And of course, quotes and pictures:
"The surest way to prevent yourself from learning a topic is to believe you already know it." -James Clear
"You know how they say life only throws at you what you can handle? I think life has too high an opinion of me." -Kristan


"I currently cannot write down my order # because my cat is asleep on my pen" -customer


"Everyone at a company – owners and employees alike – need to be sitting on the same end of the seesaw because the world is sitting on the other end." -Joe Ricketts


kulbir: If we were assembly programmers, we'd never have to write CSS for IE.
kulbir: Or if we were still hunters in the wild.
robert: That is deep and beautiful, Kulbir. Every time you have to write CSS for IE, ask yourself if you would rather be chasing a buffalo with a spear. Chances are, your answer will surprise you.
samuel: I tried to chase buffalo with a spear, but someone added a blink tag to the buffalo, and that made it impossible to hit.


falisha - Headset broke I am at home so going to get the duct tape brb
falisha - All out of duct tape so we will see how this gorilla tape holds up lol but I am back in
drake - if you bust thru that gorilla tape you might need jesus


"This thing needs a 'No, Really' setting" - Carolyn, when returning a second time to still damp clothes in the dryer


"Ahwwww... Jack is so cute. Cherish these moment b/c they grow up to be big stinky kids like mine always asking for money." -Jamie


"So, what we need to do, if you agree with me or not..." - Eva


"Sometimes you say things in scrum that I have to mitigate..." - Robert


"I'm an IT DJ, and I'm taking requests." -Joon, acknowledging praise, completely deadpan, after pushing a big feature early and flawlessly.


"That man came back with 2 bags of mulch. 2 bags! Like he was special." - Brionne


"I love being so near capital assets" -Fred Brecht while touring a plastics plant


"If IT wanted to be happy, they'd be free-range puppy farmers." - Sam, coder.
"if I could share another moment of glory" -Liz


"People look at him and think, This guy's really got it together! He's brave!
And the man riding the lion is thinking, How did I get on a lion and how do I keep from getting eaten?" - Toby Thomas


Ben: I'm re-reading the mars series and now I want to make a automated brick factory for mars. but I have too many other things to do


"I have a Furby Baby that no longer works as it should. I put batteries in it and its eyes & mouth kept moving around with no sound coming out. I immediately took the batteries out and went looking for holy water" -LaToya


theo: maybe we should start maintaining .crontab_snapshot again
kulbir: I think we'll not need it with ModuleCow
theo: i don't know if modulecow has any crons yet
jeremy: with the doomsday clock update
jeremy: it may not even matter
"It is a most wonderful comfort to sit alone beneath a lamp, book spread before you, and commune with someone from the past whom you have never met." - Yoshida Kenko
"The darkness tunnel is the hiring" -Jayson