CPAP.com's Nasser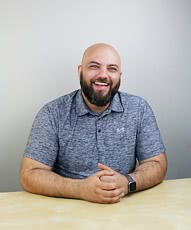 Name: Nasser
Bio:
Hello all, my name is Nasser! I am a Senior Product Owner at CPAP.com. I have earned my Bachelor's degree in 2003 from Amman, Jordan, and a duel M.B.A. degree from Cornell & Queens universities, US and Canada in 2017.
Prior to joining CPAP.com, I started my career working in the hospitality industry, and I was able to combine travel and work, I have lived and worked in the Middle-East, North Africa, Canada, and the US. After my I completed my post-grad degrees, I joined Amazon as a senior product manager, during my time in amazon I worked on many interesting projects, such as, building predictive behavioral models, and seller support.
On a personal note, I enjoy the outdoors, video games, anime, and sci-fi, if you ever want to talk dragon-ball-z I am your guy.
Random facts about me:
· Enjoy musicals and find ballet boring
· I am a level 2 certified wine sommelier
· I like cooking, but not cleaning