What was 2013 the year of? Certain events stand out differently amongst people, but what most of us have in common is the feeling of time escaping us; it all seems to fly by so quickly. But did you know all the excitement and highlights from last year caused the average person to lose about  2 weeks of slumber in 2013? Good thing advancements in sleep therapy continued to bring more comfort and ease for a good night's sleep. Looking back on CPAP Therapy in 2013, machines became even lighter and masks became quieter, thus giving users a better chance for quality sleep.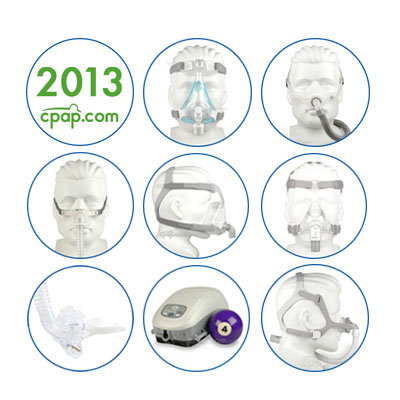 The release of the TAP PAP created a new type of independence in CPAP therapy. By designing a stability mouthpiece, the headgear is no longer needed. The TAP PAP created quite a  buzz amongst women who were sick of getting crease marks in their hair from headgear. Many users were also excited to get rid of morning red marks caused by headgear.
"I absolutely love this concept, I will never go back to the other contraptions, thanks to who ever came up with this idea!" –MELANIE V, GA
ResMed released its first nasal mask in the Swift FX series.
"The first time I wore this mask, I got the lowest AHI since I started CPAP therapy about three months ago. The mask is comfortable to wear and I'm still able to wear my glasses so I can still read myself to sleep!" –DAVID F, FL
Last year, the Pilairo got quieter. With a newly designed diffuser filter, this mask offers more than just a better fit.
"I have a mild case of claustrophobia and can't tolerate the full face masks. The Pilairo Q is fabulous for me. And it's so quiet. It's so worth it." –SUZZANNE R, CA
Users were delighted to be able to customize the frame by choosing a fabric or clear silicone frame. The release of this mask really showed how the industry is trying to bring more of a variety to the comfort side of CPAP therapy.
"I absolutely love this "mask". It is comfortable. It is the first mask I don't feel the need to over tighten to my face to seal. I don't have leaks and I am sleeping great." –DONALD S, TX
This format of a full face mask became popular very quickly after its release. It only has 3 parts, which makes cleaning less of a headache!
"I really like the mask. It seals better than the other masks that I have had. I like the extra cushion on the cheeks as the mask does not press into my cheeks as much as the other masks. The silicone seal is much easier to clean and attach to the frame of the mask. I am pleased with the product." –STEVE R, AZ
The reduced size frame now gave users the option to change sizes of the cushion and choice between silicone and gel frame without having to replace the entire mask. Very economical!
"This is my fourth mask since June and it is truly a winner. Very few leaks, some nights none at all. Light weight, and very easy to disassemble for cleaning. I sleep all night and most of the time am unaware I have the mask on. Thank you Philips Rest. for this winner." –GAIL C, AL
ResMed released the latest mask in its Quattro series. The Quattro Air is designed 45% lighter than the Mirage Quattro Full Face Mask.
"Fits and functions as my original Quattro, only lighter, with much much better headband – especially the top strap. The lighter weight is immediately noticeable, and welcome." -MICHAEL S, NH
Already dubbed one of the lightest machines, Transcend released its highly anticipated APAP with EZEX ( think easy exhalation ). This comfort feature creates a decrease in pressure at the beginning of each breath to create more of a natural breathing experience.
"Absolutely love this little thing! I finally feel like I'm getting enough air, and the power switch is placed so that none of the cats can walk over it and turn it off during the night. It is so quiet that now I can hear the oxygen exchanger I hid in the closet."  –SUSAN L, FL
Seemed like the year of full face masks, right? CPAP Therapy in 2013 definitely broke ground for further advancements to surface in the coming year. So, here's to more great products and healthy sleep in 2014.
Cheers and Happy CPAP-ing.