The World Cup fever is at its high! With only 3 games left before the final match, soccer seems to be everywhere- even sleep. That's why we'd like to share this with you:
Similarities Between Soccer & Sleep: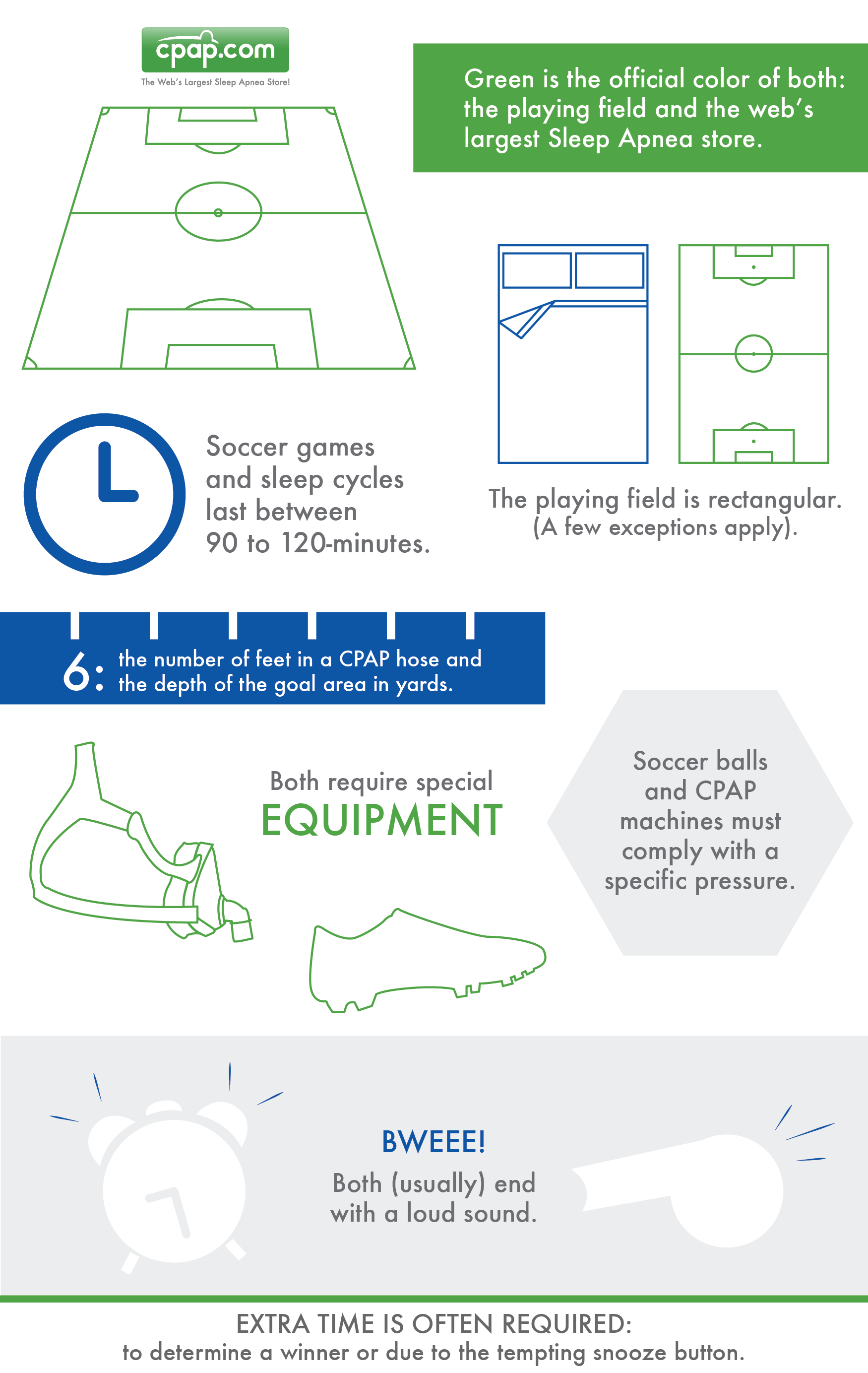 1. Green is the official color of both: the playing field and the web's largest Sleep Apnea store.
Browse through the hundreds of products that CPAP.com has in stock for you.
2. Soccer games and sleep cycles last between 90 to 120 minutes.
Practice makes perfect. Adhering to therapy will help keep those sleep cycles uninterrupted.
3. The playing field is rectangular (A few exceptions apply).
Keep "the playing field" free from distractions to help improve the quality of your sleep.
4. Six: the number of feet in a CPAP hose and the depth of the goal area in yards.
Clean your hose and mask daily to avoid mold or allergens.
5. Both require special equipment.
Each one of us has different likes and needs, talk with a CPAP expert today to find the equipment that best fits you. Call 1.800.356.5221, write to CPAP@CPAP.com or visit live chat.
6. Soccer balls and CPAP machines must comply with a specific pressure.
Stay on top of your therapy. Using an APAP machine will ensure that the machine is providing the lowest possible amount of pressure needed to maintain the airway open.
7. Both (usually) end with a loud sound.
Having a sleep routine is a healthy habit that will slowly lead you away from restless nights.
8. Extra time is often required: to determine a winner or due to the tempting snooze button.
Friend or foe? Be careful with the snooze button. It can disrupt your sleep and your schedule.
Remember, you are only a few clicks away from getting the best equipment at CPAP.com. Thank you for tuning in and may the best team win!