Join our email list and save 5% instantly, or 10% if you spend over $99.
Join Today >
Home

/

CPAP Masks
CPAP Masks
With a wide selection of CPAP masks, you're bound to find one that works for you. Our products are listed by popularity, so you'll instantly see which ones our customers like the most. With our Risk-Free Guarantee, you can try out different mask styles and return the ones you decide not to keep for free (within 30 days).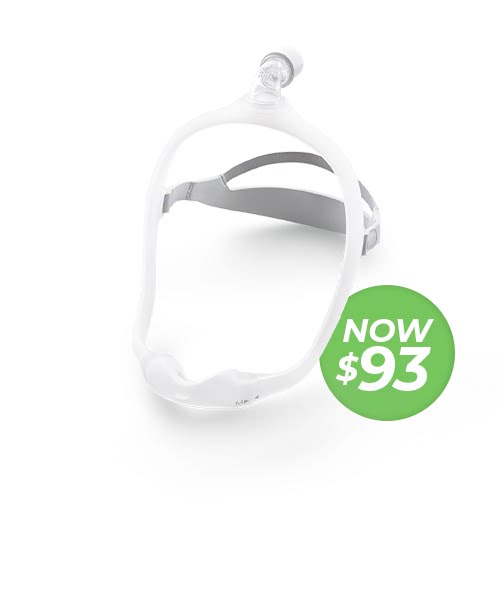 Now Only $93!
Save today on the ever-popular DreamWear Nasal CPAP mask!
Shop DreamWear >
View all of our CPAP masks and related products
Search all of our available mask types as well as mask accessories and replacement parts below.
The ResMed P30i Mask
Have the freedom of movement with this minimal, low-contact nasal pillow mask.
Shop Now
Simply shop and save. No code necessary.
Shop Now
Fit For Your Lifestyle
Finding a mask with the right fit for your lifestyle needs can be difficult but it doesn't have to be! Look below for our selection of hand-picked masks that fit your needs for comfortable and effective therapy!
Common Questions
New to CPAP therapy and have questions about masks? We collected the most frequently asked questions our customers ask and provided you with the answers you need.
How Do I Choose a CPAP Mask?
You may not realize it, but in some ways, a mask chooses you, not the other way around! You'll get the most out of CPAP therapy if you get one that accurately reflects how you actually sleep, not how you'd like to sleep. Start by asking anyone who's been around you when you sleep. Depending on how you answer, this is going to be your first step in choosing a new mask.
If you sleep with your mouth open, you'll need a full face mask, or you could use a chinstrap and try a nasal.
If you sleep with your mouth shut, you have a few more options. You can go with a nasal pillow or a nasal mask.
All of our masks have a free return policy, which means you can return any you don't want to keep (within 30 days) for a full refund!
For expert advice, read our overview of different types of sleep apnea masks!
Do You Need a Prescription for a CPAP Mask?
You need a prescription to buy a CPAP mask. They are considered Class II Medical Devices, and per federal and state regulations, a prescription must be on file before you can buy one. There is one exception to this rule. With some mask manufacturers, you can buy an Assembly Kit (basically a mask without headgear) and the Assembly Kit would not require a prescription. Some people are able to use this as a way to get around the prescription requirement. CPAP.com sells both CPAP masks and Mask Assembly Kits on our website.
How Long Do CPAP Masks Last?
Your CPAP cushion should be replaced once every 3 months, and your complete mask should be replaced once every 6 months.
What is the best CPAP Mask?
The best mask for you ultimately depends on your sleeping position, whether you breathe through your mouth or nose, and lifestyle needs such as masks for beards, tv-friendliness, quietness, and active sleepers. To help you get started, here are our customer's favorite masks designed to enhance the comfort and effectiveness of your CPAP therapy:
For helpful advice, read our expert reviews on the top-rated masks in 2019.
Watch Our CPAP Mask Video!
New to CPAP masks and how they work? We've made this video below to show you how a mask fits, functions, and is maintained.