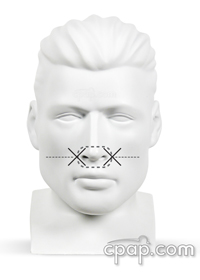 Nasal Pillow CPAP Mask Overview
Nasal pillow CPAP masks seal around the base of the nostrils, also called nares, using a soft pillow. Nasal pillow systems are held in place by headgear. They do not seal over your mouth. This design is preferred by those who want a minimal amount of weight and material on their face. Some users find pillows irritating to their nares. This style of CPAP mask has consistently gained popularity since its introduction to the market.
Shop Now
Nasal Pillow FAQs
Nasal pillow delivery systems offer less contact with the face than either full face or traditional nasal masks. This system works well for those who tend to feel closed in or claustrophobic. Many nasal pillow systems have nothing that cross in front of the bridge of the nose allowing for a clear line of sight for reading or watching TV.




It can be easier to achieve a seal with this system, because there is less for you to adjust and less surface area to create and hold a seal.




Nasal pillow systems may work well for someone with a mustache or beard as the seal occurs only at the nares or nasal opening.




Someone who has a facial mole or scar near or around the nose, may find getting a seal with a traditional nasal mask difficult. Nasal pillows are an option in this circumstance.




Most nasal pillow masks also come with all sizes included to make finding the right size easier.




Here are some of our top selling Nasal Pillow Masks:




Swift™ FX Nasal Pillow CPAP Mask with Headgear

AirFit P10 Nasal Pillow CPAP Mask with Headgear

TAP PAP Nasal Pillow CPAP Mask with Improved Stability Mouthpiece

Nasal pillow and nasal prong masks seal only at the nostrils or nares. Therefore, only the size of the nostrils has to be considered when selecting a delivery system. Also, most nasal pillow masks include small, medium, and large nasal pillow cushions to offer the user multiple options. Some nasal and full face masks are offered in smaller sizes.

We have created a selection filter so you can easily see the masks that we would recommend for people with small faces. View Masks for Small Faces.
Unlike a nasal mask, which is designed to cover the entire nose, a nasal pillow mask creates a seal around the base of each nostril leaving a more open field of vision than a traditional nasal mask. Nasal pillow masks are less bulky and are generally thought of as more comfortable and less claustrophobic than their nasal mask cousins. Nasal pillow masks are for anyone who breathes through the nose during sleep, or those who are willing to use a chinstrap if they breathe through their mouth at night.
Nasal Pillow Video
More Videos
CPAP Users Say
CPAPtalk.com CPAP User Discussions
Did You Know?, Nasal Pillow
Moisture Therapy may help alleviate irritation and redness.
Your pressure setting may feel different through a nasal pillow mask than from a nasal or full face mask.
Nasal pillows should be cleaned each morning after use and allowed to air dry.
Nasal Pillow masks are great if you prefer to have air delivered directly through your nostrils.
Nasal Pillow Articles
Top Nasal Pillow
Top Nasal Pillow by User Review
Top Nasal Pillow by Sales
Top Nasal Pillow by User Review
Top Nasal Pillow by Sales