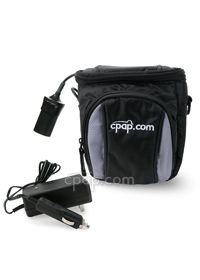 Power Solutions
Battery backups in CPAP therapy are used to travel or to run your machine in case of power outages. There are two main options for batteries: integrated battery backs and stand alone batteries. Integrated battery packs attached to your machine, power it for more than 8 hours and travel very well. Stand alone battery packs vary in size depending on the life of the battery. Many are travel friendly. Some machines require unique or custom power configurations. Check with us first!
Shop Now
Power Solutions FAQs
An adapter may be required to plug a US power cord into a wall outlet in a foreign country. CPAP.com sells an assortment pack of World Traveler Power Adapter Plugs, which allow CPAP machines to plug into different types of wall sockets found in different countries.
All the models CPAP.com sell contain power converters that enable the machine to operate on any AC current from 100 to 240 volts without any adjustment.
To prepare for your international travel, be sure to:

Check the voltage of your destination. You may need a plug adapter for your machine.
It is recommended to pack spare parts for your equipment. CPAP.com can ship to most destinations around the world, but you may not want the additional wait and cost.
Review the general Travel Tips found in this section.

CPAP therapy should be used every night. Your CPAP or BiPAP machine and equipment should go with you on trips. There are some tips to help with your travel:

Remove Water From The Humidifier. If you are going to take your CPAP humidifier with you, remove ALL water from the humidifier chamber. Water left in the humidifier chamber can be tipped into your machine and cause damage.
Accompany Your CPAP Through Security. Stay with your CPAP machine. When going through security, security agents will usually need to inspect the CPAP separately. Ask to stay with the CPAP. This way you can watch them handle the CPAP machine, and you can make sure all of your parts (cords, masks, chambers, filters) get back into the bag.
Plan Your Power Needs. Know what type of power your CPAP requires. If you are going to use a battery, make sure you have all the parts needed to safely run the CPAP on battery power. If you are traveling abroad make sure you have an international adapter plug. Check out the Power Solutions section of the FAQ for more information.
Identify Your CPAP as Medical Equipment. To help move through security easier, put a medical equipment tag on your CPAP bag. We offer a Medical Equipment Luggage Tag.
Carry a Medical Alert Card. When traveling or handling daily tasks, it is good to carry a medical alert card in your wallet. The card will inform emergency personnel that you have obstructive sleep apnea. We offer a Medical Alert Card.
Pack Your Power Cord. Just like people commonly leave cell phone chargers at home or in the hotel, we frequently get calls from travelers who have left their CPAP power cord behind. Check to make sure your cord is packed with your machine before you leave home and when heading back home.
Bring Spare Parts and Back Up Mask. Like the power cord, items get left behind or misplaced while on the road. Having spare parts and a back up mask will ensure you are not caught without equipment.
Call Us If You Leave Something. CPAP.com delivers all over the US and to most international destinations. This includes to hotels and resorts. We also have expedited shipping options. If you are in a bind, give us a call 800.356.5221.

Check out all of our travel accessories we carry that may help you on your travels with your CPAP.
Using a heated humidifier on a 12volt battery power source will significantly reduce the length of time the machine will run. In most cases, usage is reduced to less than half the estimated operational time. CPAPs, APAPs or BiPAPs requiring inverters reduce the power time even more.

Please note that some heated humidifiers are not capable of being operated on 12volt battery power sources.

For optimum performance of your battery, plan to use your CPAP without the heated humidifier. You may also have the humidifier connected and filled with water, but without the power turned on. This changes a typical heated humidifier into a passive humidifier.

We suggest testing the battery setup you are planning to use with your machine in advance. To determine the actual amount of power time you will receive and whether or not heated humidification is required for your comfort, test the battery at home before traveling.

Lithium-ion (Li-Ion) and small sealed lead-acid (SSLA/Pb) batteries should be recycled and/or disposed of in accordance with local regulations. These batteries should not enter the solid waste system since they may have a negative impact on the environment and waste management process.

Please contact organizations committed to responsible recycling of batteries. Lead-acid batteries may also be taken to a location where automotive starter batteries are accepted.

Lead-acid batteries include:

Respironics Lead Acid Battery

Lithium-ion batteries include:

ResMed Power Station II Battery
Transcend Multi-Night Battery
Z1 Battery
C-100

By Live Chat: Click on the Chat now field in the lower right hand corner of the CPAP.com page. If after hours, click Leave a message to enter your question and we will get back in touch with you.
By Phone: 800.356.5221 (8 AM - 8 PM CST Mon-Fri; 8 AM - 5 PM CST Sat)
Email Us: cpap@cpap.com
By Fax: 866.353.2727
Could not find what you were looking for? Please send us your question. Question Submission Form
Power Solutions Video
More Videos
CPAP Users Say
CPAPtalk.com CPAP User Discussions
Did You Know, Power Solutions
Portable CPAP batteries can power a machine for about eight hours before it must be recharged.
If your machine does not have the ability to directly hook up to a battery or dc power source, you can use an inverter or converter depending on your machine.
A typical rechargeable CPAP battery can power a CPAP machine for eight hours on average.
If your battery isn't holding the charge it should, it may be time to change the cell.
Power Solutions Articles
CPAPtalk.com Wiki Articles
Research Articles
Top Power Solutions
Top Power Solutions by User Review
Top Power Solutions by Sales
Top Power Solutions by User Review
Top Power Solutions by Sales