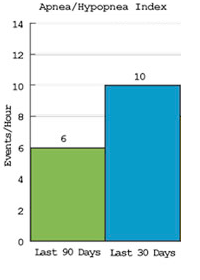 CPAP Software
CPAP software allows you to track your therapy progress and performance over time. Data capable machines will allow you to use CPAP software to spot issues and get hard data to measure the performance of sleep therapy. When speaking with your physician, the data reports may provide insight on necessary changes as well as factors that are improving your therapy.
Shop Now
CPAP Software FAQs
CPAP Users Say
CPAPtalk.com CPAP User Discussions
Did You Know?, CPAP Software
Tracking your sleep metrics lets you monitor improvements, make changes, and may help your doctor provide you with better care.
CPAP Software allows you to track your sleep metrics, like hypopneas, AHIs and more.
Data cards fit into your machine to collect your sleep data. These cards can be taken out and read by a card reader that hooks up to your computer. Software is still necessary for data to be downloaded.
Download cables connect your machine to your computer so that you may download your sleep metrics to your computer for viewing. Software is needed retrieve this data.
CPAP Software Articles
CPAPtalk.com Wiki Articles
Top CPAP Software
Top CPAP Software by User Review
Top CPAP Software by Sales
Top CPAP Software by User Review
Top CPAP Software by Sales