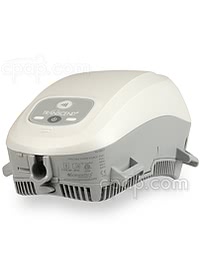 Travel Sized Machines
Today's CPAP machines are small and portable and the vast majority are suited for travel. Travel friendly machines are small sized, but newer machines also offer on-the-go humidification and integrated or stand alone power options. All machines sold by CPAP.com support both US and International power outlets, although additional plug adapters are needed. This section will help you familiarize yourself with airline CPAP rules and CPAP user tips for successful travel.
Shop Now
Travel Sized Machines FAQs
All CPAP, APAP, and BiPAP machines can be used everyday. The newer machines that are smaller and lighter are still robust enough for constant daily use as well as travel.
CPAP therapy should be used every night. Your CPAP or BiPAP machine and equipment should go with you on trips. There are some tips to help with your travel:

Remove Water From The Humidifier. If you are going to take your CPAP humidifier with you, remove ALL water from the humidifier chamber. Water left in the humidifier chamber can be tipped into your machine and cause damage.
Accompany Your CPAP Through Security. Stay with your CPAP machine. When going through security, security agents will usually need to inspect the CPAP separately. Ask to stay with the CPAP. This way you can watch them handle the CPAP machine, and you can make sure all of your parts (cords, masks, chambers, filters) get back into the bag.
Plan Your Power Needs. Know what type of power your CPAP requires. If you are going to use a battery, make sure you have all the parts needed to safely run the CPAP on battery power. If you are traveling abroad make sure you have an international adapter plug. Check out the Power Solutions section of the FAQ for more information.
Identify Your CPAP as Medical Equipment. To help move through security easier, put a medical equipment tag on your CPAP bag. We offer a Medical Equipment Luggage Tag.
Carry a Medical Alert Card. When traveling or handling daily tasks, it is good to carry a medical alert card in your wallet. The card will inform emergency personnel that you have obstructive sleep apnea. We offer a Medical Alert Card.
Pack Your Power Cord. Just like people commonly leave cell phone chargers at home or in the hotel, we frequently get calls from travelers who have left their CPAP power cord behind. Check to make sure your cord is packed with your machine before you leave home and when heading back home.
Bring Spare Parts and Back Up Mask. Like the power cord, items get left behind or misplaced while on the road. Having spare parts and a back up mask will ensure you are not caught without equipment.
Call Us If You Leave Something. CPAP.com delivers all over the US and to most international destinations. This includes to hotels and resorts. We also have expedited shipping options. If you are in a bind, give us a call 800.356.5221.

Check out all of our travel accessories we carry that may help you on your travels with your CPAP.
To prepare for your international travel, be sure to:

Check the voltage of your destination. You may need a plug adapter for your machine.
It is recommended to pack spare parts for your equipment. CPAP.com can ship to most destinations around the world, but you may not want the additional wait and cost.
Review the general Travel Tips found in this section.

An adapter may be required to plug a US power cord into a wall outlet in a foreign country. CPAP.com sells an assortment pack of World Traveler Power Adapter Plugs, which allow CPAP machines to plug into different types of wall sockets found in different countries.
All the models CPAP.com sell contain power converters that enable the machine to operate on any AC current from 100 to 240 volts without any adjustment.
Yes, you can travel by air with CPAP equipment. Sleep therapy should be used every night and your equipment should be taken along when traveling. The following information is intended as a general guideline and does not reflect any particular airline's policy. Check with your airline carrier to verify their policies regarding CPAP / BiLevel equipment.

Generally in the USA, a CPAP machine and mask are NOT counted as a carry-on item.
The CPAP carry case must meet the size restrictions set for carry-on items.
Only items directly related to the medical treatment are included in the exception, any other items will count towards the carry-on allowance.
Some airlines ask that you contact them 48 hours prior to the flight, especially if you are planning on using the machine on the flight. Before traveling, check the policy for the airline you will be using.
Some airlines require documentation from a doctor stating the equipment is required by the user and must be kept with the user during travel.
In some cases, an on-board electrical outlet may be available. If you plan to use the equipment during the flight, a battery backup should be carried in the event the on-board power is interrupted.
Some locations in Asia and Europe may count the equipment used for Sleep Therapy as a carry on, but all airlines will allow it.

Air Travel: Call your airline. Each airline has a different policy on whether or not you can use your CPAP while in flight, and if they have a power source available.

Here is a letter from the manufacturer Resmed on the topic:

ResMed Travel Letter
We provide our customers with many tools to make informed decisions about their machine purchases. Options include:

Calling a CPAP Expert Toll Free. 800.356.5221.


Comparison Charts. These charts compare available machines, feature by feature. If you don't know the meaning of a feature, click on the question mark for a definition. Click on the image or name of the product for more detailed product information, pictures and resources.

CPAP Comparison Chart

APAP Comparison Chart

BiPAP Comparison Chart


Browse Our Machine Product Categories. These categories show each machine our company offers, ranked by popularity. Popularity is determined by a mix of sales data and our in house opinion of the quality of the machine based on our experience and customer feedback. The best products float to the top of our categories.

CPAP Machine Category

APAP (Auto Adjusting) Machine Category

BiPAP (Two Pressure) Machine Category

We work very hard to provide many different ways for our customers to compare products. Here are the machine product guides we have created and maintain:

CPAP Machine Comparison Guide. This guide stacks up every CPAP machine we sell, feature by feature. If you don't know the meaning of a feature, click the question mark for a definition. The links below will take you to the most popular CPAPs, or all CPAP machines we sell.

Compare Most Popular CPAP Machines

Compare All CPAP Machines


Auto Adjusting Machine (APAP) Comparison Guide. This guide stacks up every APAP machine we sell, feature by feature. If you don't know the meaning of a feature, click the question mark for a definition. The links below will take you to the most popular APAPs, or all APAP machines we sell.

Compare Most Popular APAP Machines

Compare All APAP Machines


BiPAP, VPAP and BiLevel Comparison Guide. This guide stacks up every BiPAP machine we sell, feature by feature. If you don't know the meaning of a feature, click the question mark for a definition. The links below will take you to the most popular BiPAPs, or all BiPAP machines we sell.

Compare Most Popular BiPAP Machines

Compare All BiPAP Machines

Wondering which filters work for your machine? Or trying to find the right replacement power cord? To find what parts are compatible with your machine or to find what parts of your machine are replaceable you can:

Use our Replacement Part Wizard to identify your machine and see all the related parts.
Browse for your machine and then click the "Replacement Parts" button on your machine's product page.

Machines come with a six foot hose, power cord, at least one filter, and manuals. Most manufacturers include a carrying case which is designed specifically for their equipment. CPAP, APAP, and BiPAP machines do not come with a delivery system or mask. CPAP masks must be purchased separately.

To see the list of what specifically comes with each machine, you can Browse for a machine. Then on the product page, click the "Specs" tab to see a full list of what comes with the machine.


Yes, all CPAPs use at least one filter that is usually a type of foam material and washable. Some CPAPs offer finer filtration with the addition of a disposable paper filter.

Cleaning and changing filters is the only maintenance required for a CPAP machine.

The filters are located at the back of the machine at the air intake.
Washable foam filters should be cleaned as soon as they become discolored. Manufacturers recommend foam filters be rinsed weekly under clear running water and allowed to air dry before being reinstalled in the machine. If the machine is used in a very dusty environment, the foam filter may require more frequent cleaning.

Disposable filters and bacteria filters are not intended to be cleaned but rather changed out, disposing of the used filter. Manufacturers recommend changing the disposable filter once a month, more frequently if used in a very dusty environment.
The only care a CPAP, APAP or BiPAP machine requires is to clean or change the filters at the air intake. This keeps the internal parts from accumulating dust. Fine paper filters should be changed out every 30 days, or when they appear soiled. Foam washable filters should be rinsed with clear running water once a week, allowed to air dry, and reinserted.

Here are some other suggested actions to care for your machine:

Keep the area around your machine clean by removing any dust from the area to improve the air quality delivered to your machine and to you.
Keep the air intake of the machine unblocked. Curtains, bedding, and papers can easily block the air intake of your machine, reducing the airflow.
If a humidifier is used with your therapy, do not pick up the machine with the humidifier attached. With most machines it is easy to spill water from the humidifier chamber into the machine causing damage. Manufacturer warranties are voided by water damage to the machine. To avoid this, remove the chamber from the humidifier and then remove the humidifier from the machine rather than transporting them together.
If a humidifier is used, empty the water from the chamber every morning. Accidents happen. If a family pet or family member moves the machine and humidifier with water in the chamber it is more likely that water could be spilled into your machine. Water damage to a machine voids the manufacturer warranty.

All CPAP masks work with all CPAP, APAP, and BiPAP machines.
Many CPAPs operate on 12 volt DC power. If your CPAP has a DC outlet, a round, single hole in the back or side of the unit, then you should be able to operate it from a 12 volt DC power source. The appropriate DC power cord is needed but inverter is not necessary. Typically, the DC power cords plugs into the CPAP and end in a cigarette lighter plug. To connect a CPAP directly to a battery, you would need a DC adapter cable that fits over the cigarette lighter plug on the DC power cord and ends in alligator clips.

For the longest usage time, we suggest you use a deep-cycle marine type battery. It will operate most CPAPs at most pressures for about three nights before needing to be recharged. We sell a smaller, portable, rechargeable Battery Pack on our site that will operate most CPAPs and most pressures for one night. We also have battery kits that come with everything needed to run your machine off battery power including the right cables needed for your machine and a battery.

The Transcend Travel CPAP Machine by Somnetics can be set up to have a fail-over, back up battery by using their Transcend Multi-Night Battery. If the power goes out, the machine will automatically switch over to battery power without an interruption to your CPAP therapy. Read about that on the "Power" tab of the Transcend Machine page.


Most CPAP, APAP and BiLevel machines today are designed to operate on both AC and DC voltage. In the United States, the AC current from a wall outlet is 110 volts. Overseas, the AC current is usually 220 or 240 volt. Most batteries produce 12 volt DC current.

We include information about the power needs and capacities on the CPAP.com pages our products. Please see the "Power" tab on any machine product page for this information. You can also see a summary of the voltage range and whether it is DC capable on our Compare Charts.

Here is a video explaining differences in power cords and power supplies of various CPAP machines:


All CPAPs will operate on DC power with the use of an Inverter to change the current from DC to AC before it reaches the machine. However, many will operate on DC power without the need for an inverter, just a power cord that plugs into the CPAP and ends in a cigarette lighter plug.

Inverters do require a lot of power. If you need to use an inverter to run your machine on battery power, the inverter will probably take about half the life off the battery.

To determine if your CPAP will operate without an inverter, look for a DC outlet on the machine, either at the back or on the side, with a single opening directly in the center. It should be labeled "DC Power" or similar term. You can also review our Compare Charts to see if your machine has a optional DC cable option.

Here is a video describing different DC cable and battery options for various machines:


All machines can connect to DC power. Some machines are configured to operate on DC Power and have a DC power outlet. Other machines require AC power and will need an Inverter that turns DC power to AC power.

Having the proper equipment is the biggest key to successfully operating the machine from a battery. For example, if your machine does have a DC outlet and you want to run your machine from a marine battery, be sure to get the correct DC cable for the machine, as well as an adapter cable with alligator clips that fits over the cigarette lighter plug.

CPAP.com sells complete battery kits with everything you need for many machines including the correct cables for those machines and batteries. You can see if there is a battery kit available for your machine Here. If you have questions about the specific power needs of your machine, review the 'Power' tab found on the machine's product page, or give us a call at 1-800-356-5221.
For longer battery use, we suggest using a deep-cycle marine battery to power the machine. A deep-cycle marine battery is heavier than the ordinary battery, but it has many advantages. The battery is easily found at auto shops and it provides power to the machine for an extended period of time. For example, a CPAP machine set at 10 cm H20 and charged on a deep-cycle marine battery will usually last three nights before it needs to be recharged.

There are small, portable battery packs that will operate a CPAP set at 10cm for at least one night, or about eight hours. CPAP.com sells full Battery Kits that come with everything needed to run your machine off battery power including the correct cables needed for your machine and a battery. You can find the battery kit for your machine Here. On each battery kit page, you can input your machine and pressure setting to see an estimate battery life for your machine.

Some machines have batteries created to be used specifically with them only. Here are some of the machines we carry with integrated or specialized battery options:

Transcend EZEX miniCPAP™ Machine
Z1 Travel CPAP Machine
Transcend Auto miniCPAP™ Machine with EZEX
Z1 Auto Travel CPAP Machine
There are a lot of back up battery choices out there that can give you peace of mind in case of a power outage. The Transcend Travel CPAP Machine has Battery Options available that can set up as a fail-over, back up battery. Review the 'Power' Tab on the machine page.

CPAP.com sells Battery Packs to accompany your machine if an integrated battery is not available. Visit CPAPtalk for more advice specific to your needs, or view this past thread on the topic here.
Using a heated humidifier on a 12volt battery power source will significantly reduce the length of time the machine will run. In most cases, usage is reduced to less than half the estimated operational time. CPAPs, APAPs or BiPAPs requiring inverters reduce the power time even more.

Please note that some heated humidifiers are not capable of being operated on 12volt battery power sources.

For optimum performance of your battery, plan to use your CPAP without the heated humidifier. You may also have the humidifier connected and filled with water, but without the power turned on. This changes a typical heated humidifier into a passive humidifier.

We suggest testing the battery setup you are planning to use with your machine in advance. To determine the actual amount of power time you will receive and whether or not heated humidification is required for your comfort, test the battery at home before traveling.
When a physician orders a pressure change, or a patient moves to an area with a very different altitude and does not have an altitude compensating machine, there are a number of ways to ensure you are receiving CPAP therapy at the correct pressure.

Sleep laboratories and sleep disorder centers may be willing to make this pressure change. Just call a local hospital or ask your physician to recommend a sleep lab. Be sure to take your prescription.

A second way is to do it yourself. We sell manometers that are very portable, accurate, and simple to use. All the machines we sell come with instructions on how to set pressure to physician orders. Most patients have little trouble doing this themselves. If you need help we can talk you through the procedure. Contact us by phone at 1-800-356-5221.

Gauge Manometer (for pressure measurements)

Fisher and Paykel Water Column CPAP Manometer with HC325 Chamber

A third option is to ship the machine to us with the new prescription. We will set it and ship it back.

It is the law and good common sense to run all sleep disorder devices at the prescribed pressure. If you think your prescribed pressure is wrong, talk to your physician.
CPAP machines which record full data (such as AHI and leak info):
AutoPAP ("Autotitrating CPAP" or "APAP") machines which record full data:

BiLevel ("BiPAP") machines which record full data:

CPAP Machines that only record compliance data (hours used) are:
Bloating is a sign you are swallowing the CPAP air. There is no real medical solution, but we have found that your sleeping position may be a factor. First, try sleeping as flat as possible, even without a pillow. If the bloating persists, try sleeping on your side or elevated. The position must be different from your current posture.

If changing your position doesn't resolve the problem, talk to your doctor about the possibility of lowering your pressure a bit. It may let a few apneas through, but the trade-off might be worth it.
Yes. Federal law requires we have a valid prescription on file before we ship your mask, machine, humidifier, or Provent.

We provide many easy ways to get your prescription:

We can request your prescription for you! When you checkout, just let us know you would like us to request your prescription, or you can log into your account to have us request your prescription.
Fax your prescription to our toll free fax number: 866.353.2727, or our international fax number: 713.541.7370
Email your prescription to cpap@cpap.com
Upload your prescription in your account, under the Prescriptions Section
Ask your doctor to fill out our prescription form. We have both a standard prescription form and a Provent prescription form.

For more information on prescriptions, please see our Prescription Section of the Learning Center.

E1399 is Miscellaneous and is used for other CPAP and Oxygen items.
CPAP Users Say
CPAPtalk.com CPAP User Discussions
Did You Know, Travel Sized Machines
Nearly all machines come with travel bags.
All travel sized machines can be used as your everyday machine.
The Department Of Transportation stipulates those with Sleep Apnea do not have to count their CPAP equipment as one of their carry on items.
Travel Sized Machines Articles
Top Travel Sized Machines
Top Travel Sized Machines by User Review
Top Travel Sized Machines by Sales
Top Travel Sized Machines by User Review
Top Travel Sized Machines by Sales