Take 15% off
your order of $200+ by subscribing!
Join Today!
Home

/

First Defense
First Defense Nasal Screens
BY First Defense
Item #689076415866
---
Order ships today if placed by 4PM CST
Product
Overview
First Defense Nasal Screens are a latex-free, hypo-allergenic solution to reduce the inhalation of airborne germs, allergens or noxious particles.
Each First Defense Nasal Screens is self-adhesive and fits over the nostril openings to comfortably filter air. To attach, peel off the paper backing to expose the adhesive and apply to the rim of each nostril.
Seven size Large nasal screen pairs come in a pack. Each screen can be worn once for up to 24 hours before being replaced.
They are ideal for use in the following environments:
Construction
Landscaping
Travel
Home & garden
Hospital
Painting
Mining
The screens are 100% breathable and can be used to filter many possible inhalation risks. This includes:
Bacteria
Viruses
Allergens
Carcinogens
Second hand smoke
Dust
Please Note:
First Defense Nasal Screens should NOT be combined with a CPAP device.
First Defense Nasal Screens should NOT used in place of a respirator for toxic or hazardous vapors.
Packaging Note: In 2014 the packaging was updated for this product. Both the previous and updated versions can be seen in the product images.
Size Note: CPAP.com carries only the size Large nasal screens.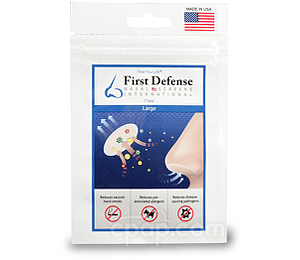 First Defense Nasal Screens
---