Home

/

SnuggleHose
SAVE $3
SnuggleStrap CPAP Mask Strap Covers (1 Pair)
BY SnuggleHose
Item #SnuggleStrap
---
Order ships today if placed by 4PM CST
From the makers of the very popular Snugglehose Tubing Wrap, SnuggleStrap CPAP Mask Strap Covers prevent discomfort and red marks caused by CPAP Straps. SunggleStraps are made of the same soft, breathable polyester fleece material which cushions the mask straps.
SnuggleStraps are compatible with 4 point headgear mask straps in which there are two connection points at the forehead support and two connection points at the mask frame. To use, just wrap the SnuggleStraps around your CPAP mask straps and secure the Velcro strips.
NOTES:
Color: The color shade may vary and does not affect the performance of the product.
Single Strap Masks Compatibility: SnuggleStraps are wide enough to accommodate a mask strap up to 1 1/4 inches wide which is the majority of mask headgear straps. Some masks have thinner straps, such as those having a single connection point, SnuggleStraps may be too wide for those masks.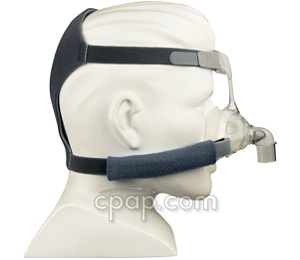 SnuggleStrap CPAP Mask Strap Covers (1 P...