Home

/

Nasal

/

InnoMed/RespCare
Sylent Nasal CPAP Mask with Headgear - Fit Pack
BY InnoMed/RespCare
Item #SYL200
---
Prescription required
Free Returns
Order ships today if placed by 4PM CST
Need replacement parts & accessories?
Shop Now
Sylent Nasal Fit Pack
Overview
Sylent's Nasal CPAP Mask provides support and comfort while reducing noise. The cushion inflates to create a strong seal which reduces the possibility of air leakage and eliminates the need to tighten headgear.

In addition, the self-adjusting flexible forehead support offers a high degree of elasticity that includes three heights as well as a wide range of angle positions. Small and medium cushion sizes are included.
The Sylent Nasal Mask was designed to provide calm and comfort. It is easily adjustable in order to conform to size requirements by utilizing an inflatable cushion, which reduces the need for headgear tightening.


Flexible forehead support. The flexible forehead support conforms to a wide range of angles in order to maintain comfort. It can also be vertically adjusted to three different heights.


Multiple cushion sizes. Each cushion, which comes in either small or medium, will inflate to provide for a better seal and increased comfort.


Exhalation Port. The Exhalation port gives off minimal noise by employing smaller port sizes. This reduces the overall noise and potential disturbances while sleeping.


Sylent Headgear. The headgear adds comfort and flexibility in order to provide the best possible fit.

The mask is constructed from Breathe-O-Prene, a breathable open-cell polyurethane material that is latex free, wicks moisture and keeps skin cool as well as comfortable.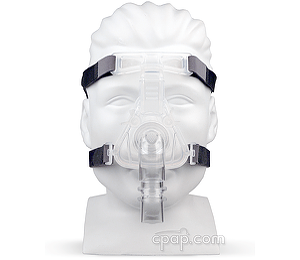 Sylent Nasal CPAP Mask with Headgear - F...
---