Home

/

Headgear

/

Hans Rudolph
Headgear for Hans Rudolph 7600 VIP Full Face Mask
BY Hans Rudolph
Item #201418
---
Order ships today if placed by 4PM CST
7600 VIP Full Face Headgear
Overview
This is the replacement headgear for the Hans Rudolph 7600 VIP Series of CPAP Full Face Masks. It is also called the 4 Strap Black Mesh Quick-Release Headgear.

This headgear has a pull-string quick release mechanism which when pulled allows the mask to quickly fall from the patient's face. Each of four elastic straps has a plastic clip that mates to a nib on the face piece. When the strap is pulled correctly (straight back away from the face) through the clip, the clip will lock and hold the strap position. To release the strap tension lift the rear of the clip. The clip can be removed quickly from the face piece by rotating it 90 degrees off the nib. The straps are a elastic Velcro loop material and have a Velcro hook section next to the pull-tab that will attach to the loop of the strap in order to keep the strap ends out of the way of the patient's face.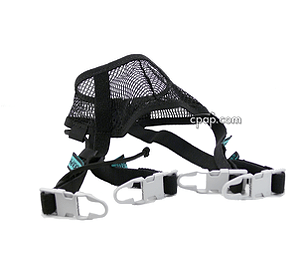 Headgear for Hans Rudolph 7600 VIP Full...
---