Home

/

InnoMed/RespCare
Nasal Aire II Petite Prong CPAP Mask with Headgear
BY InnoMed/RespCare
Item # PA401
---
Prescription required
Free Returns
Order ships today if placed by 4PM CST
Need replacement parts & accessories?
Shop Now
Product
Overview
The Nasal Aire II Petite Prong CPAP Mask with Headgear is a slimmer version of the Nasal Aire II by InnoMed. Six sizes of nasal prongs are available to choose from.
From Innomed.

Advantages:

- Suitable for Adults and Children (Over 40 lbs)

-Can be worn for any duration without discomfort (no uncomfortable pressure points on face).

-User can sleep in any position.

-Virtually leak free. Does not chill the nose.

-Built-in swivel

-Easy to assemble and clean.

Please Note: Size A is the LARGEST size prong. Size E is the SMALLEST size prong.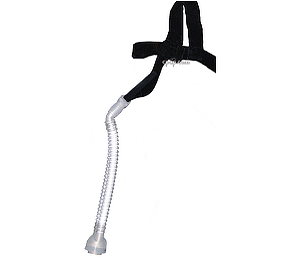 Nasal Aire II Petite Prong CPAP Mask wit...