Home

/

Apex Medical
Mr. Wizard 230 Nasal Pillow CPAP Mask with Headgear
BY Apex Medical
Item #SM03001
---
Prescription required
Free Returns
Order ships today if placed by 4PM CST
Need replacement parts & accessories?
Shop Now
Mr. Wizard 230 Nasal Pillow Mask
Overview
Believe in magic? The Mr. Wizard 230 Nasal Pillow CPAP Mask does. This lightweight mask may provide just the trick to offer a comfortable, well-fitting solution when heavier, more cumbersome masks fail to pull the rabbit out of the hat. Included is a small cleaning brush and three different sizes of nasal pillows.
The Mr. Wizard 230 Nasal Pillow Mask is light enough to make the user think it has performed a disappearing act! This is a nasal pillow mask with pillows that seal at the bottom of each nostril.
Features
3 Sizes of Self Adjusting Pillows
Lightweight Materials
Angled Headgear for Stability
Tube Retainer Clip Included
Short Tube with Ball & Socket Elbow
Quick Release Tube Connection
Cleaning Brush
Self Adjusting Nasal Pillows
The Wizard 230 nasal pillows are made to adapt to the position and orientation of the nostrils. The base of the pillows features an indentation to help keep it from rubbing the nasal area. The Mr. Wizard includes three nasal pillows: small, medium, and large.
Lightweight Materials
The Mr. Wizard is made up of lightweight components coming together for a mask weighing just 2.85 oz. with the medium nasal pillows installed. A lightweight mask is less likely to cause irritation and provoke claustrophobia.
Headgear Design Features
The lightweight headgear is designed with comfort and efficiency in mind. The side straps angle down to the nasal area to provide a secure connection of the nasal pillows and help promote cheek comfort. A crown strap goes over the top of the head and features a retainer clip. The short tube can be locked in to the retainer clip if the desired position is to have the hose directed over the head.
Elbow and Short Tube
The Mr. Wizard 230 features a short tube that connects to the mask frame using a ball and socket joint. This allows the short tube to move freely in multiple directions to help accommodate movement during sleep. The end of the short tube features a quick release swivel allowing the mask to be easily detached from the longer CPAP hose for restroom breaks or other interruptions to therapy.
Cleaning Brush
Included with the Mr. Wizard 230 is a small cleaning brush for easy maintenance of the nasal pillows. The brush effectively cleans the inside of the nasal pillows to help provide a fresh, clean experience each night.
Mrs. Wizard Available:
Looking for a Wizard 230 nasal pillow system designed for her? Good news! Apex also offers the Ms. Wizard 230.
Replacement Parts
Apex, the manufacturer of the Wizard 230 mask will be making replacement parts available. The product pages for the part will be coming soon to CPAP.com, including:
Replacement Nasal Pillows (Sizes: XS; S; M; L)
Replacement Headgear (Blue & Lavender)
Mask Frame
Elbow Connector with Short Tube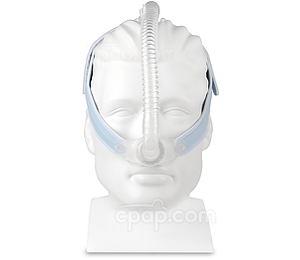 Mr. Wizard 230 Nasal Pillow CPAP Mask wi...
---