Home

/

Lifesource for Republic of Sleep
Republic of Sleep CPAP Hose Cover
BY Lifesource for Republic of Sleep
Item #TC-GREY
---
Order ships today if placed by 4PM CST
Product
Overview
Preventing hose condensation, also called "rainout," is critical to having a good night's sleep. Using a heated humidifier is great for providing moisture to your mouth, throat, and sinuses. Sometimes drops of water form inside the hose as the warm, humidified air cools as it travels from the humidifier to your mask.
If you insulate your hose properly by using the Republic of Sleep Hose Cover, you can help eliminate the formation of those pesky droplets and not be disturbed while you sleep.
Here's how the Republic of Sleep Hose Cover can benefit you!
Helps Prevent Hose Condensation
Whether it comes from a leaky faucet or your CPAP machine, dripping water can be downright annoying! Insulating your hose helps keep the humidified air from your machine from cooling off as it travels through the hose to your mask. Not only is warm air more comfortable, but it's also going to help reduce or eliminate condensation. The Republic of Sleep Hose Cover is an inexpensive way to insulate your hose and solve this problem, so you can get back to sleep without disruptions.
Reduces the "Medical" Look of Your Equipment
The presence and appearance of CPAP equipment and medical devices can sometimes make you, your spouse, your partner, or your guests feel uncomfortable. One way of helping reduce those feelings is by covering up one of the more visible parts of your setup: the hose. By covering the hose in soft fabric, your machine will look less medical and appear more comfortable and inviting.
Velcro Tabs Help Lock the 6 Foot Hose Cover in Place
The insulation is only good if it stays in place! The Republic of Sleep Hose Cover uses velcro tabs that wrap the hose cover in place at both ends of your hose. These tabs can be adjusted to work with hoses of different diameters. The Hose Cover is a standard size that's 6 feet in length and will work with most hoses.
Available in 4 Different Colors—Pick Your Favorite!
Choose your favorite color, and we'll ship it to your door! You can choose from:
Light Gray
Dark Gray
Olive
Navy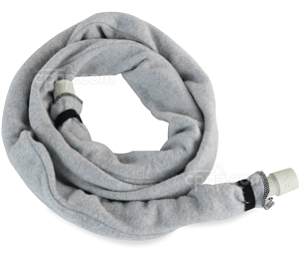 Republic of Sleep CPAP Hose Cover
---