There's a new full face mask in town! Philips Respironics has recently launched the Amara View– a lightweight mask packed with smart features, such as quiet exhalation ports and quick release headgear clips. But, there are 3 things you definitely need to know about this mask:
3. Under-the-Nose Cushion Design
Just like any other full face mask, the Amara View seals both the nose and mouth. It does so through a revolutionary nostril opening that rests below the base of the nose. In other words, you can say goodbye to red marks and soreness on the bridge of your nose.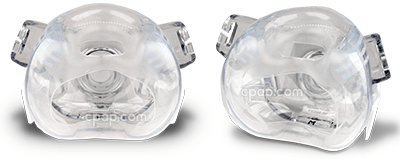 2. Smallest Full Face Mask (Yet)
You know what they say, "a picture is worth a thousand words."  Take a peek  at the image below. With its under-the-nose cushion design, the Amara View offers minimal contact by covering less of the face when compared to the Amara (and other leading full face masks).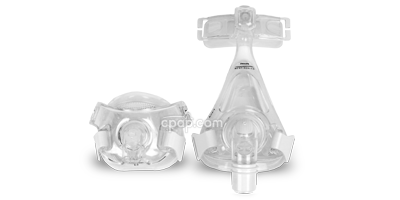 1. Wide Field of Vision
The forehead support is gone! With no forehead support and a smaller mask frame, the Amara View offers a much wider range of visibility. Now you can wear your mask and glasses while reading a book or watching TV before falling asleep.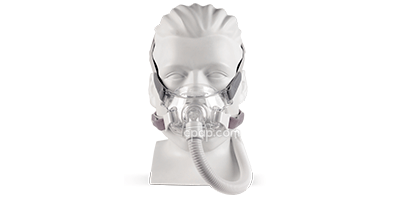 Did You Know?
Roughly one out of every five CPAP users prefer a full face mask. Since it allows breathing through both the nose and mouth, it is ideal for users who are congested, have a deviated septum, have a chronic sinus condition, or simply alternate between nose and mouth breathing.
Ready to experience this innovative full face mask? Purchase the Amara View,  and if you don't like it, we'll refund the purchase price! Visit CPAP.com today and choose the size that's right for you. Print out this sizing gauge template (make sure it's printed at 100% scale) and measure it based on the depth of your nose. Just a heads up, all of the 3 soft, silicone cushion sizes – small, medium, and large- will fit the universal sized mask frame. So, should you need to replace the cushion or try a different size, you can easily swap out the mask cushion.
We'll be keeping an eye out for reviews on this cutting-edge full face mask. In the meantime, click here to learn more about the Amara View Full Face CPAP Mask and all of its other nifty features.