Exciting news, CPAP-ers! ResMed is officially in the small CPAP game! And we have to say, the AirMini is indeed quite small: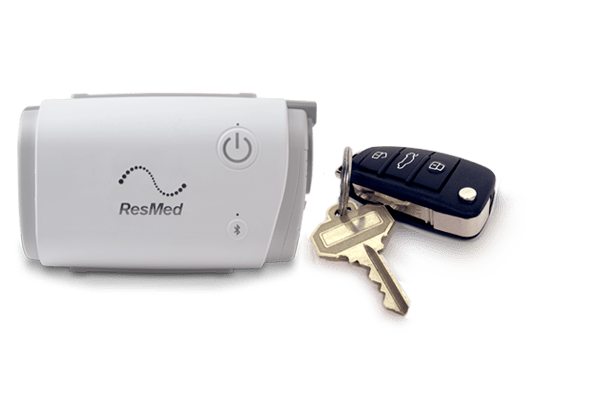 So we're excited to welcome the ResMed AirMini CPAP and APAP (in one) to the Travel CPAP Machine section of CPAP.com. With so much buzz surrounding the Airing Micro CPAP, we're optimistic the AirMini travel CPAP machine will fill a need in the market for something smaller.
The AirMini Details
Keep in mind, you can get all the detailed AirMini features from our product page. Customers often call us to ask what we think about certain items, so this blog post provides some of our thoughts on ResMed's new AirMini travel CPAP  machine.
Likes:
1. We'll Say It Again: The Machine IS Tiny.
ResMed is calling it the world's smallest CPAP machine. And, while we didn't buy that right away, in house measurements with calipers confirmed this to be true. Fun fact: If the Z1 didn't have such a large filter end cap, it would have been close, as the width and depth are about equal. We like that it's small enough to be discrete for users who might not want everyone to know they have a CPAP or APAP in tow. The weight of the device is just over half a pound (.66 lb). It's 5.4 inches wide, 2.1 inches tall and 3.3 inches deep.
2. SMALL Charger.
While Human Design Medical's Z1 and Somnetics' Transcend CPAP machines aren't much bigger in size, the AirMini leads with the compact and lightweight charger at 7.2 ounces. And not at the cost of pressure either, this device still goes 4-20cm. To compare, Transcend's charger is 10.6 ounces and Z1's is 9.4 ounces.
3. The Machine Leverages Proven ResMed Technology.
At $849 for the setup, this small CPAP machine will cost a pretty penny. However, it does boast the luxury features ResMed's become known for: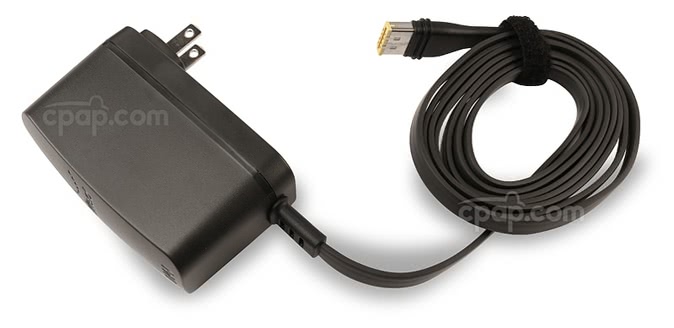 EPR
Ramp
Auto On | Auto Off
Minimal, "White Noise" Sound
4. It's Pretty Simple to Use.
The machine will come ready out of the box – set up as either a CPAP or an APAP per the user's request. The AirMini settings are easy to modify, simply by downloading the AirMini App to a smart phone. Utilizing Bluetooth technology, the AirMini pairs to the phone application and essentially turns your smart phone into a remote control. And from there, you can update settings like pressure or EPR.
Dislikes:
1. You Better Like the AirFit Line of Masks.
The AirMini is designed specifically to work with the AirFit line of masks. And simply having one of these masks isn't enough. Users will need to purchase the masks with the set up packs (as linked below). If that isn't limiting enough, the P10 Set Up Pack comes complete. Whereas the N20 and F20 masks will need to be purchased separately. The set up packs enable the utilization of the new HMEX feature for humidification. And be aware: ResMed does not offer free returns on the AirMini like many manufacturers. So if you aren't already using an AirFit mask, we recommend trying one before you go all in on the machine.
2. It's White.
While small and sleek, the travel device is only available in white. One pass around our Marketing department and there were slight scuffs, which didn't wipe off too easily. If you appreciate aesthetics, then we recommend the add-on travel bag, to help keep your small CPAP machine shiny white as it bounces from location to location.
3. One Machine is Both the CPAP and the APAP.
We generally prefer APAP machines, as they're more comfortable and generally give users a better sleep experience. However, it does seem the CPAP and APAP in one may frustrate customers. Basically, if you're happy with the CPAP, you may not want to pay a premium for the added functionality of APAP technology.
4. The Price.
While the machine offers enough capability to be a home and travel CPAP machine, we do feel the price point might be a tough pill to swallow. However, if you need a machine and are willing to pay a little more for a small one – you will probably find the convenience worth the price tag.
Conclusion:
In all, we're excited to announce the AirMini's arrival and think it will be a great travel CPAP device. Finding the right mask is no small feat and limiting users to only the AirFit line will likely slow the adoption of this machine. We're still hopeful in the future more masks will be compatible with the device and users will have freedom to choose.
To help you make sense of CPAP machines and how they fit into CPAP therapy and treatment, we've created a comprehensive guide to CPAP machines. There you'll find valuable information about the CPAPs and how they're used to treat Sleep Apnea.
What do you think of ResMed's AirMini?