CPAP Masks

CPAP Machines

CPAP Supplies

Sleep Accessories
Take 15% off
your order of $200+ by subscribing!
Join Today!
Home

/

Nasal
Nasal CPAP Masks
104 items
About Nasal CPAP Masks
Sealing over or under your nose, nasal CPAP masks are effective for CPAP wearers who breathe through their nose. When compared to nasal pillow CPAP masks, nasal masks can accommodate higher pressure settings. Nasal CPAP masks can adapt and mold to a variety of different facial structures by conforming to the wearer. From triangle over-the-nose shapes to slim under-the-nose designs, nasal masks come in a variety of shapes to create a small facial footprint and deliver you with an open line of sight.
What Is a Nasal Mask?
Designed to have a small facial profile, a nasal CPAP mask seals around or under the base of your nose. To find the mask that works with your lifestyle, nasal CPAP masks have three different design types: over-the-nose, under-the-nose, and hollow frame. Each of the three design types works with nasal breathers to provide quality airflow. The three designs differ in facial touchpoints to either provide you with an open line of sight with less nasal bridge irritation or to ensure a secure seal while being less expensive.
Unlike its full face CPAP mask counterpart, nasal CPAP masks do not cover the mouth, making it ideal for nose breathers. Nasal CPAP masks have a nasal cushion that is made of silicone, gel, foam, or cloth to provide a comfortable sleep apnea therapy experience.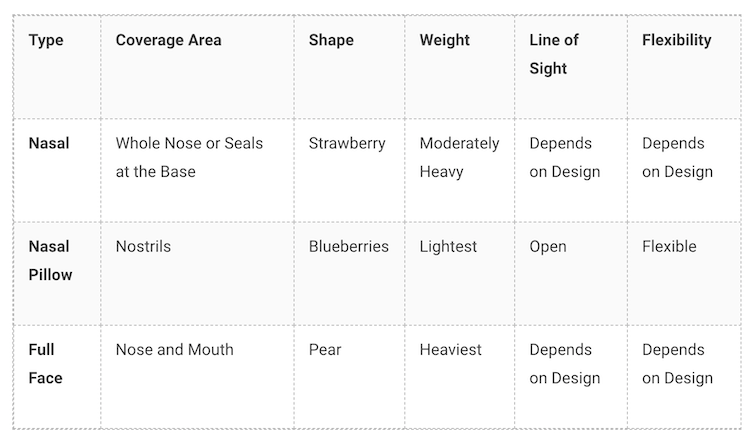 Difference Between Nasal and Nasal Pillow CPAP Masks
Nasal pillow and nasal CPAP masks are similar in design since they both are fit for nose breathers. Nasal pillow masks seal at the base of each nostril while nasal masks either cover your nose completely or seal at the base of your nostrils. The main difference between the two masks is that nasal CPAP masks aren't inserted into your nostrils like nasal pillow CPAP masks. Nasal CPAP masks can also work better in higher pressure settings than nasal pillow CPAP masks.
Why Choose a Nasal Mask Over a Full Face or Nasal Pillow Mask?
Breathing through your nose triggers your relaxation response, which helps you to unwind and relax before bed. Nasal breathing engages the parasympathetic nervous system to release the stresses from the day and help counteract the fight-or-flight response.
Breathing Through Your Nose Helps To:
Moisten and Warm Incoming Air
Eliminate Germs and Bacteria to Help Fight Infections
Facilitate Blood Flow and Lung Strength
Maintain Body Temperature
Improve Automatic Brain Functions


Advantages of Nasal CPAP Masks Over Full Face and Nasal Pillow Masks:
Usually the Least Expensive
Easiest to Use
Wide Range of Styles
Newer Models Offer Open Line-of-Sight


Design Styles of a Nasal CPAP Mask
Over-the-Nose
Under-the-Nose Nasal Cushion
Hollow Frame Design


Over-the-Nose Nasal Cushion
The first and traditional style of nasal CPAP masks is the over-the-nose nasal cushion style, which is the least expensive of all nasal mask types. The popular ComfortGel Blue Nasal and the Eson 2 feature an over-the-nose nasal cushion style with a forehead support to provide a stable seal. The over-the-nose cushion style is about the size of a strawberry and covers the bridge of your nose, allowing you to bend and flex the cushion and still maintain a quality seal.
However, the over-the-nose cushion isn't fit for wearing glasses before bed since it covers the bridge of your nose.
Advantages
Secure Seal
Flexible Cushion
Least Expensive
Disadvantages
Can Be Bulky
Harder to Sleep on Your Stomach
Can't Wear Glasses


Under-the-Nose Nasal Cushion Design
Under-the-nose nasal cushions seal at the base of your nose under your nostrils, leaving the bridge of your nose open to allow you to wear glasses, read, or watch television before bed. The under-the-nose nasal cushion design helps alleviate nasal bridge soreness, red marks, and irritation. The ResMed AirFit N30 is a popular choice in the under-the-nose nasal cushion department as it covers the nostrils only to provide quality and comfortable sleep apnea therapy.
Advantages:
Open Line of Sight
Lightweight With Minimal Bulk
Alleviates Nasal Bridge Soreness and Irritation
Disadvantages:
Headgear Can Easily Become Stretched Out to Keep the Secure Seal


Hollow Frame Design
A nasal CPAP mask with a hollow frame design uses a nasal cradle cushion to seal at the base of the nostrils. The hollow frame design allows air to flow through the frame with a majority having a hose connection on the top of your head. Two standout hollow frame design masks are the ResMed AirFit N30i and the DreamWear Nasal, which are similar to each other in design. With minimal facial touchpoints, hollow frame nasal masks grant an open line of sight and eliminate nasal bridge soreness and irritation.
With the hollow frame design, you can switch sleeping positions as you please. If one side of the hollow frame becomes blocked while sleeping on your side, the air will redirect to the other side to continue your sleep apnea therapy without interruptions.
Advantages:
Active Sleeper Friendly
Side or Stomach Sleeper Friendly
Open Line of Sight
Alleviates Nasal Bridge Soreness and Irritation
Can Wear Glasses
Disadvantages:
Cushion Frequently Needs to be Replaced
Most Expensive Out of the Three Types of Nasal Masks


Finding Your Most Comfortable Fit
Selecting the right mask for your lifestyle out of the three nasal CPAP mask designs depends on what matters the most to you. If you want an open line of sight to read or watch television before bed with decreased nasal bridge irritation, select the under-the-nose or hollow frame nasal mask design styles. However, if you're looking for a secure seal at higher pressure settings and an inexpensive option, try the over-the-nose design to obtain the fit that's most comfortable for you.
Order a Fit Pack to Try All Cushions Sizes
If you're unsure of the correct cushion size for you, Fit Packs are bundles that include cushions in all sizes, making it easy to try out the different sizes in the comfort of your home. Once you've identified the size that works best for you, you can order replacement cushions in the size you prefer. If you've recently switched to a new mask, starting with a Fit Pack is the best way to find the cushion that provides the utmost in therapy comfort.
Use a Mask Sizing Guide
When identifying the nasal cushion that is the best fit for you, head to the mask's product page on CPAP.com and look at the sizing guide to print out and measure your nose to identify the correct size for your facial shape.
Solutions for Most Common Nasal CPAP Mask Pain Points
If you're struggling with your current mask or looking to make the switch to a nasal CPAP mask, let's take a look at some common pain points and the solutions.
Solutions for Preventing Nasal Soreness, Red Marks, and Irritation
The under-the-nose and hollow frame nasal masks help to eliminate nasal soreness, red marks, and irritation by removing pressure on the nasal bridge.
If you're looking to add some cushion to your mask, try incorporating mask strap pads that wrap around your headgear straps and add a layer of comfort. The mask straps add a buffer between your mask and your face, saying goodnight to red marks in the process.
Solutions for CPAP Mask Leaking
If you're struggling with mask leaks, try the over-the-nose nasal cushion design, which positions around the nose. With the design of the over-the-nose cushion, your entire nose is covered to provide a secure and stable seal.
Another tip is to find your right cushion size by ordering a Fit Pack or using the mask's sizing guide to ensure your seal is form fitting to your facial shape.
Solutions for a Noisy CPAP Mask
When selecting your ideal nasal CPAP mask, look for a mask that has a quieter than a whisper sound output or one with exhalation ports to direct air out and away from you and your partner. To also keep your mask quiet, maintain your mask equipment based on the replacement schedule to ensure a silent night.
Nasal CPAP Mask Cleaning and Maintenance
Cleaning your CPAP nasal mask daily can increase the longevity of your equipment. Since you use your equipment nightly, regularly cleaning your CPAP mask equipment will prevent illness and allow you to get the most out of your sleep apnea therapy.
Clean Your Equipment Using These Tips to Keep Your CPAP Nasal Mask Working in Tip-Top Shape:
Disassemble the mask, separating the cushion from the frame.
Using mask wipes or mild soap and water to clean the exterior of your mask, ensuring you remove any debris and deposits. Thoroughly clean your equipment to prevent and remove germs and bacteria. Occasionally, use the Control III Disinfectant to receive a hospital-grade clean at home.
Using the same mild soap as before, run the solution through the short tube or hollow frame to clean the inside of your equipment. After running the solution through your equipment, rinse thoroughly with warm water to ensure all of the product is out of your tube or hollow frame.
Set aside to air dry out of direct sunlight.


Cleaning Schedule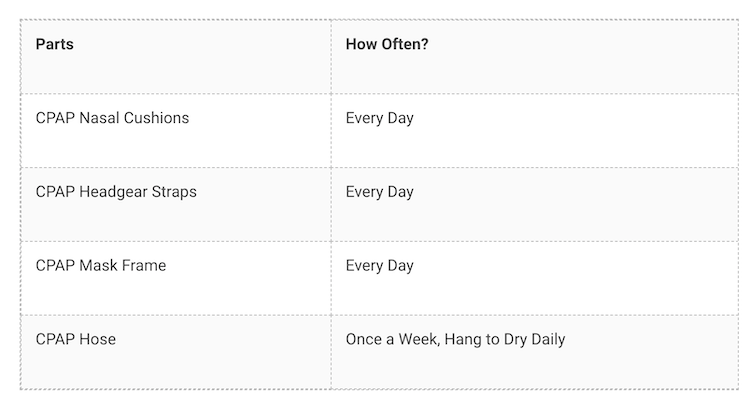 Replacement Schedule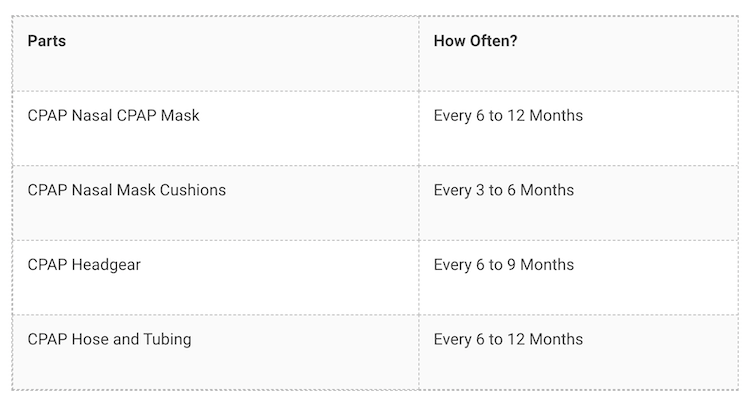 Best Nasal Mask for Your Lifestyle
Based on your lifestyle and nightly routine, you probably have a CPAP mask wish-list with criteria that's most important to you for the success of your sleep apnea therapy.
Let's take a look at some of the best nasal CPAP masks to fit your lifestyle.
Best Nasal CPAP Mask for Reading or Watching T.V. Before Bed: ResMed AirFit N30
If you're looking for a quiet mask with an open line of sight, the ResMed AirFit N30 checks in at only 18 decibels of sound output and is free of the nasal bridge support, so you can read or watch T.V. before bed. The ResMed AirFit N30 rests at the base of your nostrils to allow you to wear glasses while also wearing your nasal CPAP mask.
Best Nasal CPAP Mask for a Secure Seal: ComfortGel Blue Nasal
Incorporating the comfort of a gel nasal cushion, the ComfortGel Blue Nasal comes equipped with a forehead pad to anchor your cushion in place. The forehead pad prevents mask leaks thanks to the plush silicone, making for a comfortable night. The gel cushions conform to your face shape to contour to you.
Best Nasal CPAP Mask for Reducing Nasal Irritation: DreamWear Nasal
Equipped with a cushion that rests just below the nostrils instead of covering your entire nose, the DreamWear Nasal provides a comfortable fit without disrupting your seal. The silicone tubing allows for a soft-to-the-touch material on your face. Since the cushion sits below your nostrils rather than the bridge of your nose, red marks, nasal soreness, and irritation can be a thing of the past.
---
Take 15% off your order of $200+ by subscribing!
---
CPAP.com is a family owned and operated business dedicated to providing Sleep Apnea equipment to those who need sleep therapy.
Contact Us
---
Phone: 1-800-356-5221
Fax: 1-866-353-2727
Email: cpap@cpap.com
Address: 13235 N Promenade Blvd, Stafford, TX 77477
Copyright © 1999-2021 US Expediters, Inc. All Rights Reserved.
Site Map User Agreement Privacy Policy PHI Policy About Ads Medicare Notice CCPA Notice Returns Policy
While you may find the information provided on this site helpful, please understand that it is not in any way intended to replace the advice of a physician or medical professional. If you're concerned about your health or worried about specific symptoms, please consult a doctor. If you have additional questions about our site, please consult our User Agreement for more information.