Home

/

3B Medical
Reusable Foam Filter for Luna CPAP Machines (1 Pack)
BY 3B Medical
Item #L8008
---
Order ships today if placed by 4PM CST
Luna CPAP Reusable Foam Filter 1 Pack
Overview
The Reusable Foam Filters for Luna and Luna 2 CPAP Machines (1 Pack) are black foam filters for use with the following machines:
Luna CPAP Machine
Luna Auto CPAP Machine
Luna 2 Auto
Luna 2 QX
These filters are for the Luna and Luna II machines only and will not fit any other machines.
Reusable filters are intended to be cleaned when dirty, and can be reused up to 6 months, before needing to be replaced. You should also consider replacing reusable filters if you notice the foam beginning to break down.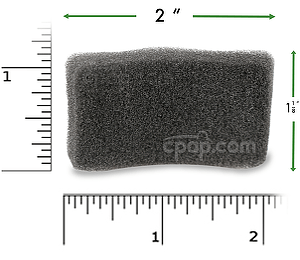 Reusable Foam Filter for Luna CPAP Machi...
---