Home

/

3B Medical
Numa Full Face CPAP Mask with Headgear
BY 3B Medical
Item #NU1001
---
Prescription required
Free Shipping
Order ships today if placed by 4PM CST
Numa Full Face CPAP Mask with Headgear
Overview
The Numa Full Face CPAP Mask with Headgear by 3B Medical features ultra-quiet ventilation on the frame and elbow, built-in oxygen ports, and soft, comfortable headgear.
Features
Quick Release Tabs
Soft Headgear
Adjustable Forehead Pad
Built-in Oxygen Ports
Extra-Fine Exhalation Ports
Quick Release Tabs
Quick release tabs on the lower part of the mask allow users to quickly remove the mask without needing to readjust in the middle of the night.
Soft Headgear
The Numa headgear is made of a soft plush material which offers the perfect mixture of comfort and sturdiness. With four points of adjustability, the headgear design helps provide a great custom fit.
Adjustable Forehead Pad
The flexible forehead pad helps ensure a comfortable fit by conforming to the shape of the forehead.
Built-In Oxygen Ports
Built in oxygen ports on either side of the mask allow users to feed oxygen from their concentrator to be used along with CPAP therapy.
Extra-Fine Exhalation Ports
Extra-fine exhalation ports along the bridge of the nose as well as the elbow vent gently diffuses air away from the user and bed partner, helping ensure a quieter night's rest.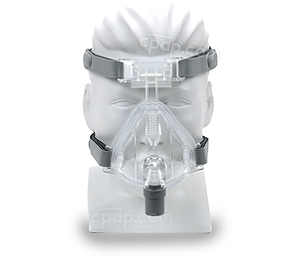 Numa Full Face CPAP Mask with Headgear
---