Take 15% off
your order of $200+ by subscribing!
Join Today!
Home

/

Cleaning

/

Maril Products
Control III Disinfectant CPAP Cleaning Solution - Home Care Kit
BY Maril Products
Item #HCK-8
---
Order ships today if placed by 4PM CST
Control III Disinfectant Solution Kit
Overview
The Control III Disinfectant CPAP Cleaning Solution - Home Care Kit includes Control III, a concentrated disinfectant and germicide formulated for use on pre-cleaned surfaces used extensively in sleep labs and hospitals.
Now you can have the same cleaning power at home for your CPAP mask and parts or other respiratory equipment.
Control III kills a broad-range of pathogens in 10 minutes of soaking.
HIV-1
Pseudomonas aeuginosa
Staphylococcus aureus (MRSA)
Salmonella choleraesuis
E. Coli
Herpes Simplex virus type 1
Herpes Simplex virus type 2
Influenza virus type A
Influenza A2 virus
Vaccinia viruses
Adenovirus type 5
The benzyl ammonium chloride blend found in Control III is an effective disinfectant against biological agents such as hepatitis, HIV, and Influenza. Maril Products received EPA approval for their label to include Control III as an active agent against Pandemic 2009 H1N1 (Swine Flu Virus).
This Home Care Kit comes with one 2 ounce bottle of Control II concentrate which once diluted makes up to 2 gallons of solution, a 2 Quart Container and Lid for soaking, a measuring cup, 15 test strips, and a color key. The strips test for germacidal activity to ensure the mixes solution is active.
You can store any diluted solution up to 14 days and the test strips help you determine if the solution is still active or effective.
Please follow the directions on the Control III label for effective use: Control III label Instructions
Please read our Important Tips tab and the Learning Center tab for more information.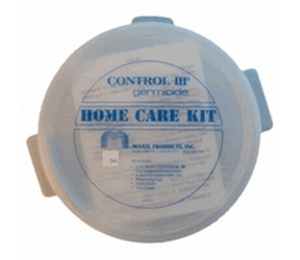 Control III Disinfectant CPAP Cleaning S...
---