Take 15% off
your order of $200+ by subscribing!
Join Today!
Home

/

Hudson Medical Products
SleePAP CPAP Pillow with Pillowcase
BY Hudson Medical Products
Item #SS6339
---
Order ships today if placed by 4PM CST
Product
Overview
The SleePAP CPAP Pillow with Pillowcase lets side sleepers and stomach sleepers get comfortable without impacting the performance of their mask and tubing.
Learn More About the SleePAP CPAP Pillow with Pillowcase:
Allows for Multiple Sleeping Positions and Reduces Mask Leaks
Ideal for Side Sleepers and Stomach Sleepers
Due to availability, the design of the pillowcase may be plain white or white wide pinstripe. The functionality and quality are not impacted by the design.
The SleePAP CPAP Pillow with Pillowcase is designed for CPAP and BIPAP users to help prevent problems that occur with standard pillows. Stomach, face and side sleepers can use the SleePAP Pillow to position the CPAP mask and tubing. The pillow helps with the following:
Prevents red marks and pressure sores
Improves therapy effectiveness
Prevents mask leakage
Cut-outs on either side of the SleePAP pillow help prevent the obstruction of mask exhalation ports, which could lead to the build-up of carbon dioxide. The pillow cut-outs also allow for multiple sleep positions. CPAP Users can sleep on either side with their CPAP mask unobstructed.
This Product Includes...


SleePAP Pillow
One Pillowcase - Machine Washable
The included pillowcase is a zippered covering for the pillow that is the same shape as the pillow. Additional pillowcases can be viewed and purchased here: Pillowcase for SleePAP CPAP Pillow.
Please Note: Due to availability, the material used to make the pillowcase may be either a plain white or a wide white pinstripe. The manufacturer assures that the function and quality of the product are the same in both case.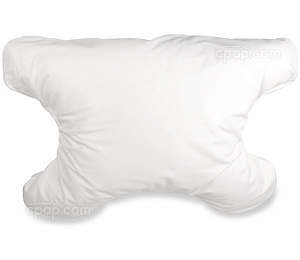 SleePAP CPAP Pillow with Pillowcase
---