Take 15% off
your order of $200+ by subscribing!
Join Today!
Home

/

AcousticSheep
SleepPhones
BY AcousticSheep
Item #SP4BM
---
Order ships today if placed by 4PM CST
Product
Overview
Don't let the hum of your CPAP machine keep you up. SleepPhones are headphones made from a washable lightweight, fleece headband with speakers woven into the sides. Use any audio device with a headphone output jack to listen to your favorite band or relaxation tracks. Purchase your own set of SleepPhones
Risk-Free! If not completely satisfied, return your SleepPhones within 90 days for your money back.
What are SleepPhones?
SleepPhones are a comfortable alternative to sleeping with conventional headphones or earplugs. The soft fleece material hides a set of slimline, removable speakers that plug into any 1/8" stereo headphone jack.

Who would use SleepPhones?

Bed Partners bothered by the sound of their partner snoring
Bed Partners bothered by the sound of the CPAP Machine
Bed Partners bothered by the sound of the CPAP Mask
CPAP users bothered by the sound of their CPAP Machines
CPAP users bothered by the sound of their CPAP Mask
People bothered by external noises from their environment that wake them up, i.e. cars, trains, neighbors, etc.
SleepPhones are great for drowning out machine noise, environmental noise or even a simple solution for a snoring partner. Load your music player with an assortment of environmental or relaxation sounds and fall asleep faster.
How to Care for SleepPhones
When it comes time for care, the slimline speakers can be removed and the headband can be machine washed. The headband is eco-friendly! The fleece material is Polartec recycled plastic that is resistant to fray or pilling. All components are lead-free.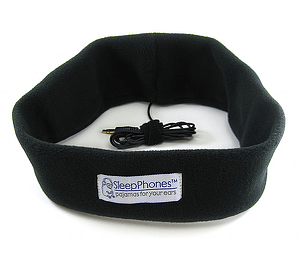 SleepPhones
---