Take 15% off
your order of $200+ by subscribing!
Join Today!
Home

/

AcousticSheep
SleepPhones Wireless
BY AcousticSheep
Item #SB1BM
---
Order ships today if placed by 4PM CST
Product
Overview
Using traditional wired headphones while in bed can create a tangled mess. SleepPhones Wireless uses a bluetooth receiver to eliminate wires and allow freedom of movement while maintaining a steady stream of tunes from a bluetooth capable device. The SleepPhones Wireless headband is a soft fleece material which is meant to rest on the head comfortably during the night.
SleepPhones Wireless are a wireless version of the well-known SleepPhones by AcousticSheep. The speakers inside of the fleece material are great for drowning out unwanted noise such as CPAP machines, masks, or other environmental noises.
Features
Bluetooth Capability
Micro-USB Charging
One Button Control
Two Fabric Options
One Size Fits Most
Bluetooth Capability
SleepPhones Wireless features a bluetooth receiver inside the headband which allows for easy syncing with bluetooth capable devices. Alerts will sound through the speakers to inform the user if a proper connection has been made or not.
Micro-USB Charging
The Bluetooth receiver of SleepPhones Wireless also features a micro-USB port for charging. The included micro-USB to USB cable allows for charging from a computer or other USB chargers. There is a charging indicator light which turns red to indicate partial charge, then green once fully charged.
One Button Control
Also featured on the bluetooth receiver is a single button used to turn power on and off, adjust volume, pause music, and pair with bluetooth devices.
Two Fabric Options
The SleepPhones are available in either Fleece or Breeze fabric. The Fleece is a soft, light material designed to maintain warmth. The Breeze material releases warmth through the light fabric pores. Choose desired fabric option when ordering.
One Size Fits Most
SleepPhones wireless is available in One Size Fits Most, which fits hat sizes 6 7/8 - 7 3/8. If unsure of hat size, measure around the head at the forehead. The One Size Fits Most will work with measurements of 21 1/2 - 23 3/8 inches.
Looking for a wired version? See the SleepPhones (Wired)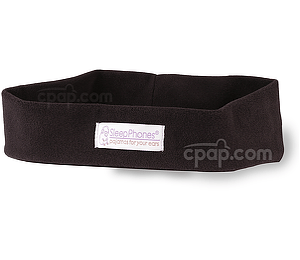 SleepPhones Wireless
---