Home

/

ResMed
AirFit N20 Complete Mask + AirMini Mask Setup Pack Bundle
BY ResMed
Item #38823/63503
---
Prescription required
Free Shipping
Order ships today if placed by 4PM CST
N20 Mask + AirMini Setup Pack Bundle
Overview
Calling all AirMini users: whether you are looking to switch from your current nasal mask to the AirFit N20 or to refresh your setup, get everything you need and save almost 8% when you purchase this bundle!
The AirFit N20 + AirMini Mask Setup Pack Bundle includes:
AirFit N20 Mask (Frame, Headgear, Magnetic Headgear Clips, and Cushion in Your Preferred Size)
• AirMini Short Tube Connector
Replacement AirMini Hose
Standard HumidX and HumidX Plus Waterless Humidification System
Switch Your AirMini Mask to the Minimal N20
Interested in trying a new AirMini mask? Here are a few advantages of the AirFit N20:
InfinitySeal Cushion:

The lightweight and flexible cushion is designed to keep up with you as you move while also maintaining a quality seal throughout the night.



Open Line of Sight:

The low-profile and light touch points give you the freedom to read, watch your favorite show, or do some last-minute scrolling on your phone before bed.



Plush Fabric Frame:

Made with a plush nylon fabric frame, the AirFit N20 is specially crafted to reduce painful red marks and indentations and increase your comfort.



Facial Hair Friendly:

The minimal design of the N20 won't get in the way of your beard or mustache—no shaving required!
Upgrade Your Setup to HumidX Waterless Humidification
Only available with the AirFit N20 or the AirFit P10, the AirMini uses the Standard HumidX or HumidX Plus inserts to make this patented humidification system possible. Waterless humidification works by using the moisture of your own breath to keep you from drying out during therapy.
Regular Replacement Keeps Your Equipment in Peak Condition
Even with the best care, your hose and mask cushion will wear out. When you avoid scheduled replacements, your mask can start to leak which can lead to frequent interruptions in your sleep! This is why ResMed recommends replacing your mask and hose once every 6 to 12 months to ensure you'll get the most out of your sleep apnea treatment.
In the Box:
AirMini Hose

AirFit N20 Nasal Cushion (S, M, or L)

AirFit N20 Headgear

AirFit N20 Frame

AirFit N20 Headgear Clips

AirFit N20 / AirMini Compatible Short Tube

Standard HumidX and HumidX Plus Waterless Humidification System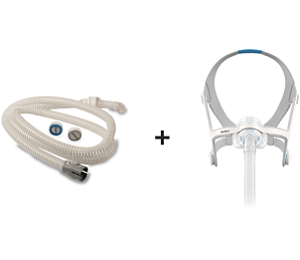 AirFit N20 Complete Mask + AirMini Mask...
---