Home

/

Cleaning

/

Beaumont Products
Travel Citrus II CPAP Mask Wipes
BY Beaumont Products
Item #276372066
---
Order ships today if placed by 4PM CST
Travel Citrus II CPAP Mask Wipes are exclusively formulated for practical and convenient every day cleaning of CPAP equipment such as masks, machines, tubing, and more. Each towelette is individually wrapped and comes boxed as a 12 pack.

There is no need to rinse. Simply use the wipes to remove dirt, oils, dust, or other particulate matter, and let it dry for a few seconds. These wipes will deodorize, refresh, and clean your mask without leaving a lingering after-smell.

Made from all natural ingredients that are derivatives from corn, coconut, and citrus, these handy little mask wipes are gentle, safe, and alcohol and solvent free and should not damage your equipment.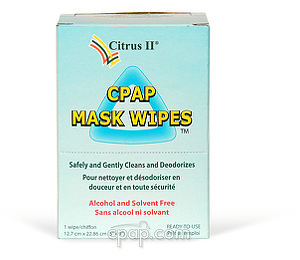 Travel Citrus II CPAP Mask Wipes
---