Home

/

AG Industries
Boomerang Gel Pad Starter Pack
BY AG Industries
Item #AGGELPAD-PK
---
Order ships today if placed by 4PM CST
Product
Overview
Using the Boomerang Gel Pad with your full face mask or nasal mask will help to enhance comfort and reduce leaks. The Gel Pad rests on the bridge of the nose to provide cushioning and help increase the mask seal.
The Starter Pack includes both available sizes of Boomerang Gel Pad: Petite/Small & Medium/Large.
Boomerang Gel Pads add a layer of cushion and increase comfort when used with both full face and nasal masks.
Benefits of Boomerang Gel Pad:
Reduces mask leaks
Helps prevent nasal bridge soreness
Limits skin irritation
Helps prevent red marks
How to use:
Wash the gel pad in warm water with a mild soap, rinse well and allow to air dry
Apply the pad to the bridge of the nose with the point of the Boomerang on the bridge of the nose and the 'wings' laying below the eye
Gently apply pressure to the pad to make it adhere to the face
Fit the CPAP mask over the pad so that the top of the pad is visible above the mask cushion
The Boomerang Gel Pad should be washed regularly in cold or warm water and allowed to air dry
Recommended replacement every 30 days
Store Boomerang Pad in original package
What the Boomerang Gel Pad is made of:
Polymer gel made of U.S. Pharmacopoeia grade mineral oil
Moisturizing essential oils
Non-toxic
Hypoallergenic
Silicone Free
Latex Free
Sizes:
The Boomerang Gel Pad Starter Pack comes with two sizes:
Petite /Small
Medium/Large
The Boomerang Gel Pad is available packaged as a single size. View the page here: Boomerang Gel Pad
Boomerang Gel Pad Notes:
Do not store on any surface other than the original packaging
Keep out of direct sunlight
May be cleaned with alcohol-based hand sanitizer
Do not clean with shampoo
Do not place in microwave or dishwasher
Do not ingest or place in mouth
Keep away from open flames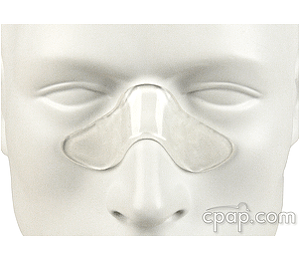 Boomerang Gel Pad Starter Pack
---