Home

/

InnoMed/RespCare
Bravo Nasal Pillow CPAP Mask with Headgear
BY InnoMed/RespCare
Item #BRV600
---
Prescription required
Free Returns
Order ships today if placed by 4PM CST
Need replacement parts & accessories?
Shop Now
Bravo Nasal Mask
Overview
The Bravo Nasal Pillow CPAP Mask with Headgear is a mask that can be configured in multiple ways for better comfort. Three sizes of nasal pillows are included.
The Bravo is a unique development in nasal interfaces, strategically designed to promote patient comfort, allow for a clear field of vision, and provide the patient multiple wearing options. With its close fitting reservoir and secure headgear, this light weight interface can be worn over the head or on the chest, and will not interfere with wearing glasses, reading etc.
The Bravo Interface features the versatility of interchangeable nasal pillows and adaptive-flow technology resulting in an extremely quiet sleep experience. The Bravo also show cases an unprecedented Active-Swivel to allow for multiple wearing positions resulting in the highest levels of comfort. The Bravo Nasal Pillow Interface System contains all the components required to properly size the patient, eliminating the hassle of opening multiple products to get the right fit.
All of these features and benefits of this unique and innovative device are intended to result in new levels of comfort and compliance during the treatment of obstructive sleep apnea.
Features
Sleek design with ultra quiet operation

Multiple wearing options to match your sleeping style

Patient can wear glasses

Limited points of contact on face and no air leaks near eyes

Easy to put on and take off

No forehead/overhead contact

Interchangeable nasal pillows

100% latex free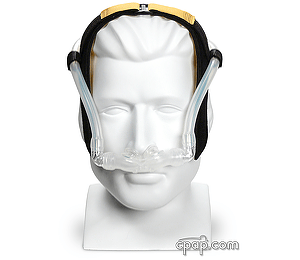 Bravo Nasal Pillow CPAP Mask with Headge...
---