Home

/

Breathewear Inc
Halo Chinstrap
BY Breathewear Inc
Item #H3407-50
---
Order ships today if placed by 4PM CST
Product
Overview
The Halo Chinstrap from Breathewear is intended to support users whose mouths fall open during sleep. This soft and durable chinstrap is designed to aid those who are losing pressure as a result of a mouth leak.
The Halo Chinstrap from Breathewear is an adjustable chinstrap with a unique design that creates stability at the base of the chin. Constructed to follow the shape of the face, adjustments are made along the cheek before connecting at the crown of the head. Functionality and flexibility work together.
Features
Innovative Design
Sleek Construction
Breathable Material
Innovative Design
The unique and lightweight halo design evenly surrounds the crest of the head to uniformly distribute pressure. This may eliminate headaches and tension caused by stress, which is concentrated in one location.
Sleek Construction
The Halo Chinstrap is designed to be more comfortable and manageable than other cumbersome chinstraps. This chinstrap omits buckles and elevated segments to produce a slim design, which lies flat against the head and face. Overall weight and comfort were considered in the construction of this model from Breathewear.
The longer strap is used to stabilize the chin during therapy, while maintaining the position of the Halo. A small opening in the chincup is intended to secure and protect the chin. Minimal material is used to connect the pieces, increasing the comfort of this chinstrap.
Breathable Material
Smart and simplistic, the Halo Chinstrap is the connection of two, narrow pieces of breathable fabric. The soft texture of the material offers resistance to sustain durability and flexibility, while preserving enough softness to cradle the face with comfort.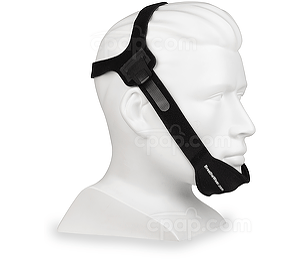 Halo Chinstrap
---