Take 15% off
your order of $200+ by subscribing!
Join Today!
Home

/

Contour Products
Contour Legacy Leg Pillow
BY Contour Products
Item #29-450R
---
Order ships today if placed by 4PM CST
Need replacement parts & accessories?
Shop Now
Sleeping on your side can bring many benefits for people diagnosed with Sleep Apnea, as it helps naturally keep the airway open and helps reduce the likelihood that someone will need a higher pressure from their machine.
Side sleeping is great for Sleep Apnea, but it can be tough on your back. Because of how a person lays in this position, it can mean that a person's legs can wind up lower than the back, creating an unnatural posture. In the morning, this can result in back pain.
That's where the Contour Legacy Leg Pillow can help. This helpful pillow helps correctly align your back with your legs, putting less strain on your back. It's also one of the only pillows on the market that can support both your legs and your knees, helping create a more comfortable night's sleep.
To Use: Slide the pillow between your legs, while laying on your side. You'll only need to use one to properly support your back.
The pillow is made of ventilated memory foam, helping keep the pillow cool and allowing for circulation of air throughout the pillow to reduce the likelihood of overheating. The memory foam adapts to the contours of your body for a more supportive fit. The pillow is designed to support the needs of both men and women equally well.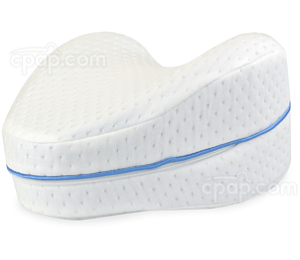 Contour Legacy Leg Pillow
---