Save 20% today
and gain access to all future offers!
Sign Up & Save >
Home

/

Travel

/

Generic
---
Order ships today if placed by 4PM CST
The CPAP.com Small Carry Bag is 6 inches tall, 5 1/2 wide and 5 inches deep. It can be used to hold the following components of a Z1 CPAP System:
Power Supply with Outlet Cord
Hose Adapter
Please Note: If using the bag for carrying a Z1 CPAP Machine, it WILL NOT hold a hose or mask, only the items listed above.
The bag is padded on all sides, including the top. It comes with a removable, adjustable shoulder strap, a hand carry strap and a back strap for a belt attachment. The front panel zips opens to reveal a small storage area with a mesh pouch on one side. There are additional mesh pouches on each side of the bag and a zippered mesh pouch on the lid of the bag.
Using the CPAP.com Small Carry Bag with Z1 Machines (NOT INCLUDED WITH PURCHASE):
Option 1
Hold the Z1 machine with the buttons facing down and the information label facing up.
Angle the Z1 machine into the bag with the filter cap going into the bag and the power and hose adapter connections at the top of the bag.
Next lay the power supply with the permanently attached cord on the slant of the Z1 machine.
Put the hose adapter connector and the coiled power cord into the front pouch and zip.
Option 2
Remove the filter cover from the Z1 machine.
Stand the machine upright in the bag.
The power supply with permanently attached cord can be stood upright next to it.
The filter cover with filter inside can be placed on top of the power supply.
Put the hose adapter connector and the coiled power cord into the front pouch and zip.
Please Note: This bag was not designed for the Z1 travel machines. The fit can be obtained, but it may require dismantling the device. Both options allow the user to place the Z1 CPAP or the Z1 Auto into the carry bag, but the fit may be tight.
Using CPAP.com Small Carry Bag with CPAP.com Lithium Ion Battery (NOT INCLUDED WITH PURCHASE):
This bag can be used as a travel bag for the CPAP.com Battery Pack. The bag has enough storage for the following:
Ion Lithium Battery Cell
Battery Charger
Machine DC Cable
Accessories pouch
View More

+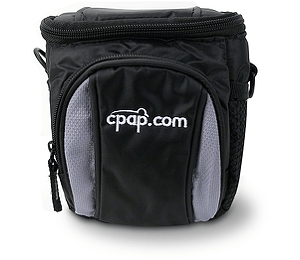 CPAP.com Small Carry Bag