Home

/

Philips Respironics
DreamStation Basic Resupply Bundle
BY Philips Respironics
Item #dreamstation-basic-resupply-bundle
---
Order ships today if placed by 4PM CST
Product
Overview
The DreamStation Basic Resupply Bundle saves you up to 50% off of regular retail prices while keeping you stocked up on DreamStation supplies for six months. Our latest resupply bundle features products our customers love at a much lower price.
What's Included
When you keep your DreamStation in tip-top shape, you'll cut down on excess noise and ensure you won't have therapy down time while waiting for replacement parts. It's compatible with all DreamStation machines featuring a humidifier.
Suggested Replacement Schedule for Each Part:
6-Pack of Disposable Fine Filters:

Six Months

(Each Filter Will Last for One Month)

One Reusable Foam Filter:

Six Months

(DreamStation Reusable Filters Last Six Months)

Replacement Humidifier Chamber:

Six Months
Let's Take a Closer Look at What's Inside:
Six Disposable Fine Filters (4.9 out of 5 Stars*): Disposable filters are important because they're designed to trap pollen, dust, dander, and allergens before they reach your lungs. If you delay replacing your filter, it can cause excess noise from your machine and reduce the quality of your air. By getting the six filters included with this bundle, you won't need to worry about filters again for six months!
One Reusable Foam Filter (4.9 Out of 5 Stars*): Reusable filters help to improve the air purification provided by the fine filter and defend against any irritants the fine filters miss. Philips Respironics recommends both disposable and reusable filters for the DreamStation to work properly.
Replacement Humidifier Water Chamber (5 Out of 5 Stars*):
The water chamber is the storage tank for your humidifier water reservoir—it's not only an important job, but it's also a tough one! Over time, mineral deposits can form in the bottom of the tank—especially if you use tap water. By replacing your humidifier chamber every six months, you'll be reducing your cleaning time while cutting down on germs, mold, and bacteria that can sometimes form. The one included in this bundle will last you six months and is dishwasher safe!
Looking for the premium version of this bundle? Check out our page for the DreamStation Premium Resupply Bundle, and get a heated tube along with everything you'll get with the basic bundle.
Please Note: These star ratings were accurate as of February 12, 2020. Star ratings may change over time.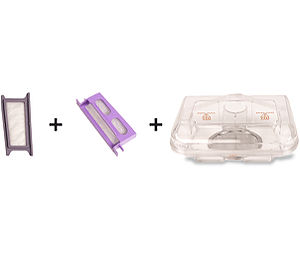 DreamStation Basic Resupply Bundle
---