Take 15% off
your order of $200+ by subscribing!
Join Today!
Home

/

Philips Respironics
Nasal Cushion for DreamWisp CPAP Mask
BY Philips Respironics
Item #1137957
---
Order ships today if placed by 4PM CST
Need replacement parts & accessories?
Shop Now
Cushion for DreamWisp Nasal CPAP Mask
Overview
The nasal cushion for the DreamWisp Nasal CPAP Mask is engineered to help minimize leaks while providing a wide-open field of vision, allowing you to see and do more before falling asleep. This product is a replacement for the original cushion that comes with the DreamWisp Nasal CPAP Mask and is available in a selected size.
This cushion is intended to fit only the DreamWisp Nasal CPAP Mask and will not work with any other mask, including the DreamWear or Wisp masks.
Choose the best size fitting your face, and stock up on replacements! This product is designed for periodic replacements of the cushion for health and safety reasons, as well as for performance-related reasons. Over time, any CPAP mask cushion will begin to lose its ability to create a quality seal. By replacing the cushion, you can possibly restore the mask to the same level of performance it had when new.
Cushions are available in petite, small, medium, large, and extra large sizes, and can fit almost any face. For the mask with ALL cushions included, see the DreamWisp Nasal CPAP Mask - Fit Pack.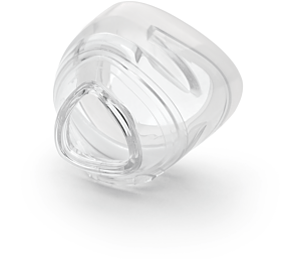 Nasal Cushion for DreamWisp CPAP Mask
---