Take 15% off
your order of $200+ by subscribing!
Join Today!
Home

/

Philips Respironics
Frame Faceplate for DreamWisp Nasal CPAP Mask
BY Philips Respironics
Item #1137970
---
Order ships today if placed by 4PM CST
Need replacement parts & accessories?
Shop Now
DreamWisp Nasal Mask Frame
Overview
The frame faceplate for the DreamWisp is the hollow frame of the DreamWisp with no cushion, no frame connector, and no elbow— just the hollow frame itself. This product replaces the original frame of the DreamWisp and can be used as a replacement in case the original gets damaged.
The frame of the DreamWisp is made of latex-free silicone. Its hollow design allows for air to flow through the mask frame from the hose on the way to the cushion. Available soft wraps can help make the frame more comfortable, as they cover the frame with gentle fabric.
The frame faceplate can be washed in the dishwasher once a week. Avoid excessive cleaning in a dishwasher as this can impact the lifespan of the device.
Please Note: The Frame Faceplate does not include headgear clips. It is just the frame and the metal base for the headgear clips. For the magnetic clips themselves please see this product: DreamWisp Magnetic Headgear Clips.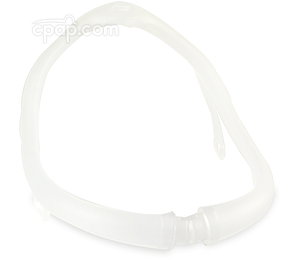 Frame Faceplate for DreamWisp Nasal CPAP...
---