Home

/

Headgear

/

Philips Respironics
Headgear for DreamWisp Nasal CPAP Mask
BY Philips Respironics
Item #1137966
---
Order ships today if placed by 4PM CST
Need replacement parts & accessories?
Shop Now
Product
Overview
Do you replace this item frequently? Join our auto-supply subscription to save time AND money!

The headgear for the DreamWisp Nasal CPAP Mask helps anchor the frame and cushion in place by provding a firm but comfortable fit. This product is the replacement headgear for the DreamWisp Nasal Mask. The headgear should be replaced once every 6 to 9 months for optimal fit and comfort. This headgear is compatible with the DreamWisp Nasal Mask only and is not compatible with any other mask.
The headgear connects to the frame of the mask using magnetic clips which anchor the headgear to the frame, and it can be tightened or loosened using velcro straps.
The headgear should be washed with mild soap and water once a week, and should not be cleaned in a dishwasher or clothes washer, or dried in a dryer as this can damage or ruin the item. The headgear is made of a special type of elastic, which is latex-free, and is designed to be hypoallergenic.
Please Note: The magnetic clips for the mask are included with the purchase of the headgear and do not need to be purchased separately.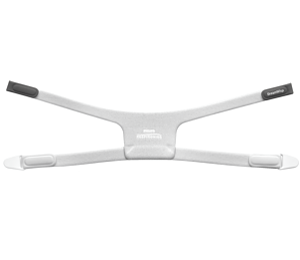 Headgear for DreamWisp Nasal CPAP Mask