Home

/

Fisher & Paykel
Glider Strap for FlexiFit HC432 and Forma Full Face CPAP Masks
BY Fisher & Paykel
Item #400HC219
---
Order ships today if placed by 4PM CST
Product
Overview
Product Update: The manufacturer has updated the headger clip for these masks. View more information on the features tab below. The image shown is of the new style.
This is the replacement Glider Strap for the following Fisher & Paykel masks:
Product Update: The manufacturer has updated the style of clips used with this glider strap and with the headgear of these two masks. The old style had two smaller interlocking clips. The newer style has a single, larger interlocking clip. The two styles are not interchangeable. If your headgear has the old style with two small clips, it will not work with this glider strap. You will have to purchase new headgear.
Please Note: The HC431 Full Face Mask is designed in such a way that the glider strap cannot be removed or replaced. Therefore, this product cannot be used with the FlexiFit HC431 Full Face CPAP Mask with Headgear.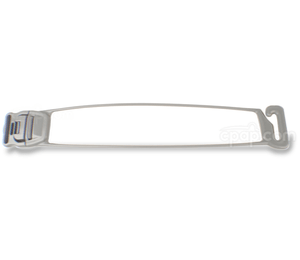 Glider Strap for FlexiFit HC432 and Form...