Save 20% today
and gain access to all future offers!
Sign Up & Save >
Home

/

Fisher & Paykel
Fisher & Paykel Vitera Full Face Mask Elbow Replacement
BY Fisher & Paykel
Item #400VIT171
---
Order ships today if placed by 4PM CST
Need replacement parts & accessories?
Shop Now
This product is the Elbow for the F & P Vitera Full Face Mask with Headgear. When combined with the F & P Swivel, these two parts facilitate the connection to the CPAP hose, directing the incoming air into the cushion, where it can be used as part of your therapy.
The F & P Swivel is the round cylinder, color-coded with a blue ring around the top, that connects to the elbow assembly just below the logo. The Elbow for the Vitera is also a cylinder, but it's curved and connects to the frame near the circular opening towards the front of the mask. This product includes the elbow only and does not include the swivel.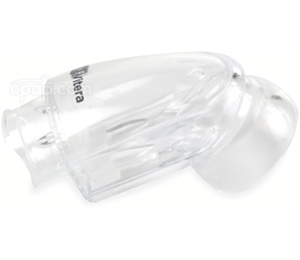 Fisher & Paykel Vitera Full Face Mask El...